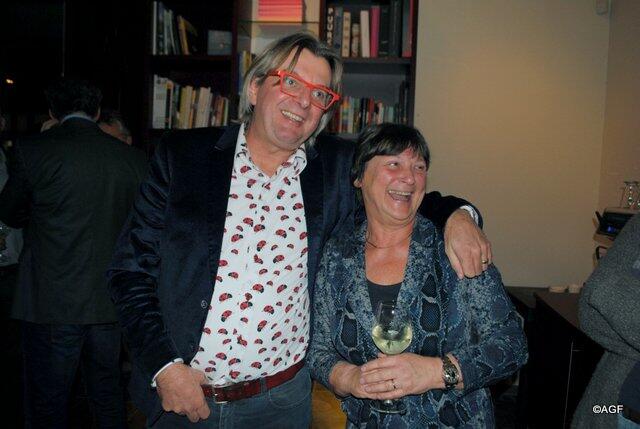 Liesbeth Boekestein is leaving Koppert Cress
In the past ten years, at exhibitions at home and abroad, she has been the face of Koppert Cress.
In the past ten years, at exhibitions at home and abroad, she has been the face of Koppert Cress. In February, at the Fruit Logistica, this will still be the case, but then the company should put someone else in the booth. Yesterday Liesbeth Boekestein left the company, but not the fruit and vegetable sector.
"The girl that crisscrossed Germany with a box of rabbit feed in the trunk," joked Rob Baan at parting Liesbeth Boekestein. Liesbeth is nearing her retirement age and yesterday held her farewell reception. Over the past ten years she has taken care of the German market for Koppert Cress. Especially for her work during the EHEC crisis, Rob showed to be very grateful. The German market is very important for the company: 25% of the production goes east. "If one would put all those boxes in a row, the row would go around the earth 25 times. EHEC was a difficult time. Liesbeth reclaimed the market for Koppert Cress. "

Interestingly, EHEC was not the first crisis in which Elizabeth had to improve the image of Dutch product on the German market. During the "wasserbombe" she did, on behalf of the Central Bureau of Horticulture Auctions the same for the tomato. "It was a tough job, but the negativity is over. There is barely not advised to buy Dutch, but the negative image is gone. This is not my merit, but by the entire horticultural industry. Something to be proud of, "she remembers.
What will they miss? "Being active in the industry. I have always been concerned with the AGF (potatoes, vegetables and fruit). Gastronomy is an immensely entertaining audience, very grateful. The contact with the trade, "she sums up. What she will not miss is a more difficult question. "It's not that my work is my hobby. Work is work. But stopping gnaws a while. I am still in good health and could have continued so a few more years. "Sitting still in any case she will not. In April, the first grandchild is expected, the garden is a hobby and in France is still a house that needs to be visited. And the first steps have been made to get started as a self-employed entrepreneur on a project basis in the fresh produce sector. But first, today, on a trip to Morocco. "A cruise that does belong to the age right? But it seems to be stormy: the turbulent waters. Adventure, I like that. "
Foto-Report: LINK
Source: AGF.NL