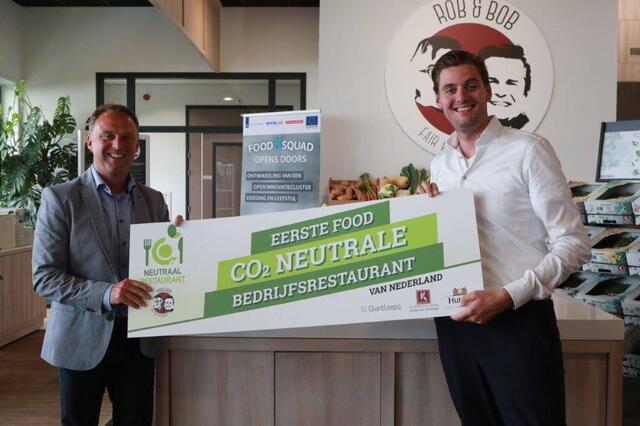 Rob & Bob first in the Netherlands with its food CO2-neutral company restaurant
Koppert Cress wants to be first in the Netherlands with its food CO2-neutral company restaurant.
Koppert Cress wants to be first in the Netherlands with its food CO2-neutral company restaurant. To make clear what the CO2 emissions of the Rob & Bob, the cooperation concept from Koppert Cress and Hutten, are now they commissioned GiantLeaps to calculate the climate impact of the company restaurant in 2017. The result: the restaurant emits 43.4 tons of CO2. This is equivalent to 5 1/4 around the globe in an average petrol car! By purchasing even more vegetables, seasonal and local, reducing waste and using compensation through, for example, planting trees, Rob & Bob will be the first food-neutral restaurant in the Netherlands!

After the opening in 2016, Rob Baan, CEO of Koppert Cress, already expressed the ambition to set up the most healthy company restaurant in the Netherlands. From the first day, Rob&Bob makes full use of this. For example, it is responsibly sourced and cooked according to the guidelines of Dutch Cuisine. The impact on the climate also plays a major role from the outset, GiantLeaps concludes. For example, the emphasis is on vegetable products: about 73% of the purchases are plant based, the largest part of which is vegetables. Also everything is seasonal and locally purchased.
More climate-conscious purchasing
Research shows that despite the emphasis on plant products, the animal products together cause more than half of the climate impact (56.7%) at the Koppert Cress restaurant. An improvement can still be made there, for example by looking at the type of meat purchased (beef has a greater climate impact than poultry). Because climate-neutral purchasing is not possible, Koppert Cress will compensate for its full emissions. They will do this by planting 135 trees.
Measuring the climate impact of food
Greenhouse gases are released in the food production chain. And some products release more than others. What you choose to eat has a big impact on the amount of greenhouse gases that are hidden behind your plate. The global food industry is responsible for more than 1/3 of the greenhouse gases emitted. Due to the growing world population, this industry will only increase and play an even greater role in climate change. To measure the climate impact, GiantLeaps has used the most commonly used method: the Life Cycle Assessment (LCA). This involves looking at all stages of a product and adding up the effects on the environment that come with it. The climate impact is expressed in CO2 equivalent.
GiantLeaps is an independent agency that focuses on making the climate impact of food measurable and communicable. In this way she takes a step towards sustainable dietary patterns and a sustainable future. Hutten intends to study the climate impact on multiple business catering locations together with GiantLeaps.
Source: Hutten
Gerelateerde nieuwsberichten
Ook interessant