Boost Mix
These small plants are full of vitamins and minerals. They are a nice addition to a healthy diet. The recognizable flavours make the product easy to apply with every meal. Did you know that: sulforaphane is an anti‑inflammatory substance. BroccoCress® naturally contains a lot of sulforaphane. It is a defence mechanism of the plant in the young phase. BroccoCress® is only five days old and therefore very rich in this material. 
Availability and storage
Boost Mix is available year round and can easily be stored for up to seven days at a temperature of 2-7°C. Produced in a socially responsible culture, Boost Mix meets the hygienic kitchen standards. The product is ready to use, since it is grown clean and hygienically.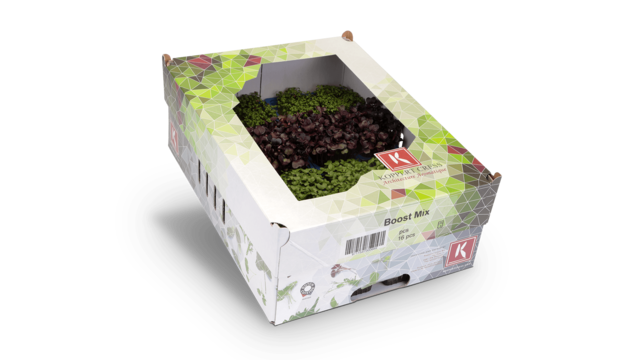 Content
BroccoCress® (per 100 gr.)
Rich in vitamins B6 and C, folic acid, molybdenum and sulforaphane
Source of vitamin B1 (thiamine), biotin and pantonthenic acid
Sakura Cress® (per 100 gr.)
Rich in vitamins B6 and C, biotin, molybdenum and anthocyanin
Source of vitamin B1 (thiamine), phosphorus and manganese
Rock Chives® (per 100 gr.)
Rich in vitamin K, folic acid, manganese and molybdenum
Source of vitamin E and vitamin B1 (thiamine), calcium, copper
Garden Cress (per 100 gr.)
Rich in vitamins C, E and K
Source of folic acid, biotin and molybdenum
Sweet

Salty

Sour

Bitter

Umami
Specifications
Taste

Sweet, Salty, Sour, Bitter, Umami

Cultures

Packaging

Solitair (16 st)

Usage

Colors

Black, Green, Purple

Dishes

Taste Friends

Nutrients

Biotin, Folic Acid / Vitamin B9, Phosphorus, Copper, Manganese, Molybdenum, Pantothenic acid, Sulforaphane, Thiamine / Vitamin B1, Vitamin B6, Vitamin C, Vitamin E, Vitamin K, Calcium, Anthocyanin
Related products
Say yes to the cress