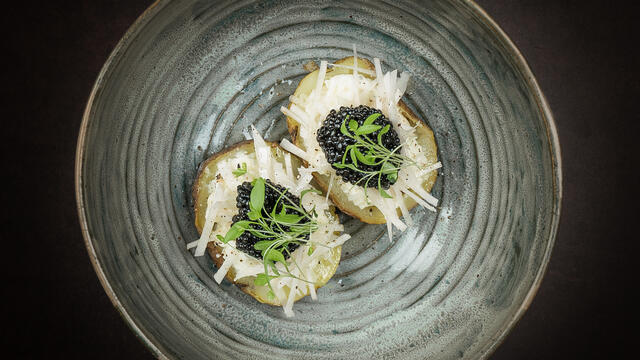 Baked potato with raw threads of Jerusalem artichoke, organ oil, imperial heritage caviar and Persinette Cress
Ingredients
(For 4 portions)
4 medium-sized soft-boiling potato
2 Jerusalem artichoke
160gr imperial heritage caviar
4 tablespoons of fresh cheese
Arqan argan oil
1 cup of Persinette Cress - Koppert Cress
Black pepper - Verstegen
Coarse sea salt - Verstegen
Method
Potato:
Wash the potatoes. Place them on an outside fire (or in an oven) so that they can cook gently without getting caught in the flames and burning. This can take up to 45 minutes until they are cooked.
Turn them over sometimes.
Prick with a needle or knife to feel that they are cooked. Then cut the potatoes in half and spoon out and put in a bowl.
Crush some with a fork and spoon and add the fresh cheese and a good dash of argan oil.
Season with sea salt and black pepper and mix well. Fill the half potatoes with this mixture.
Warm up again before serving.
Jerusalem artichoke:
Peel the Jerusalem artichoke.
Cut it in wafer-thin slices and then finely chop into threads.
Mix this with a few drops of argan oil and place a bunch on each half potato.
To finish off:
Place 2 warm half potatoes in each plate and spoon a spoonful of caviar onto each.
Put some black pepper from the mill over the preparation and finish with a few sprigs of persinette cress.
Recipe: Frank Fol - The Vegetables Chef®
Photo: Wim Demessemaekers, Photographer | @wim_dmskrs
Preparation time: 60 minutes 
Techniques: veggies 
Plate: Black Plate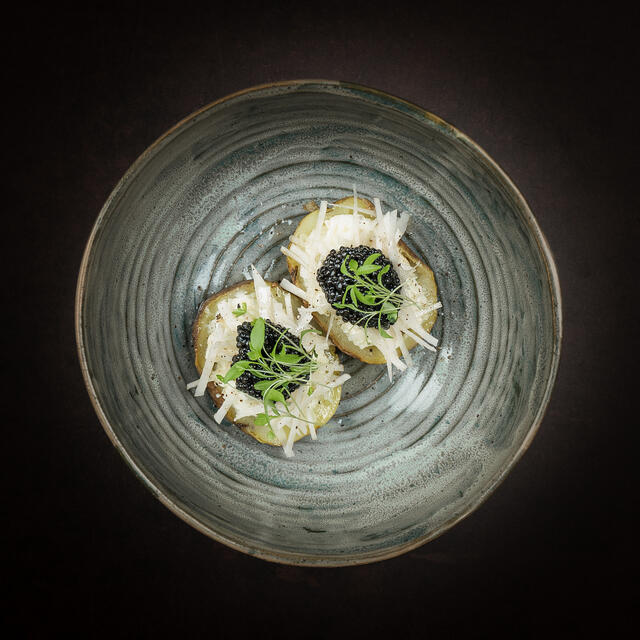 Related recipes
Gastronomical masterpieces
Related products
Say yes to the cress