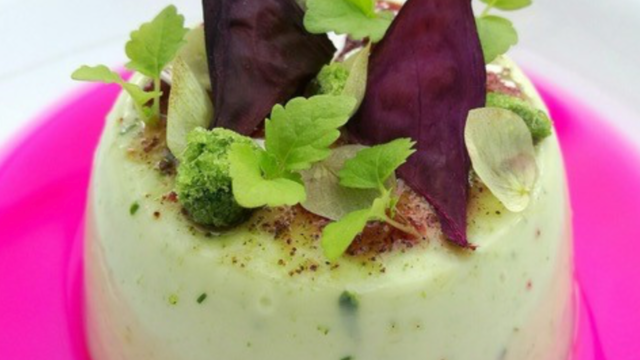 Cardamom Leaf Pannacotta with Yka Leaves Syrup
,
The Staff Canteen
Source: The Staff Canteen
A totally unique flavour and fragrance that comes from the leaves of the cardamom plant. Only available from Koppert Cress.
Ingredients
4/5 portions
Cardamom Pannacotta
6 Cardamom Leaves 
100g caster sugar
100ml double cream
400ml coconut milk
14g gelatine powder 
Melissa Cress 
Floregano®
Jasmine Flowers 
Yka Syrup 
60g caster sugar 
100ml water 
8 Yka Leaves®
Blend together the sugar and Cardamom Leaves In a pan, add the cream, and 100ml of coconut milk. Heat it gently, whisking continuously. Add the gelatine and whisk until dissolved completely.

With the pan off the heat, mix in 70g of the Cardamom sugar and add the rest of the cold coonut milk. Pour in to your chosen mould and chill to set in the fridge for a few hours.
Dehydrate the rest of the Cardamom sugar and reserve for plating up. To make the syrup, bring to the boil 60g of sugar with 100ml of water, reduce for 1 minute.
Add whole Yka Leaves® to the syrup whilst whisking until the syrup turns bright purple. Cook for 20 seconds only. Pass through a sieve or filter and allow to cool before using. Remove pannacotta from the moulds when ready to plate up. Sprinkle on top some Cardamom sugar and a few leaves of Jasmine flower, Floregano®, Melissa cress & dehydrated Yka leaves.
Source: https://www.thestaffcanteen.com/chefs-recipes/Cardomom-Leaf-Pannacotta-with-Yka-Leaves-Syrup#/
Related recipes
Gastronomical masterpieces
Related products
Say yes to the cress