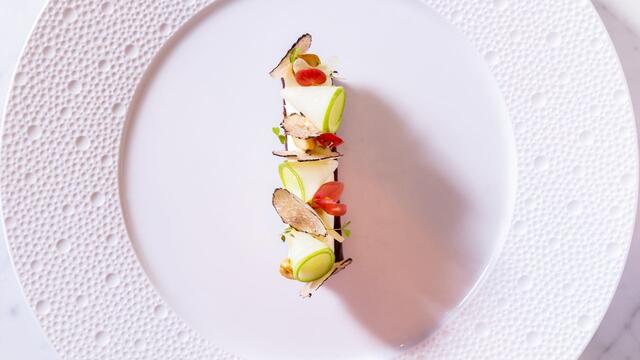 Chocolate, melanosporum, celeriac, hazelnut, Citra Leaves
In the Grand Duchy of Luxembourg, we are impressed by the way in which the dishes find their balance on the plate.
Ingredients
1 apple Granny Smith
1 truffle tuber melanosporum
some caramelized hazelnuts
1 branch of celery
Apple Blossom
Citra Leaves
For the chocolate fondant:
100 g of dark chocolate
100 g of butter
60 g of protein
35 g egg yolk
60 g of sugar
For the celeriac mousse:
50 g of milk
10 g egg yolk
30 g of white chocolate
60 g celeriac puree
80 g cream 40%
Method
For the fondant, boil the butter, pour on the chocolate and emulsify. Beat the sugar with the egg whites and the yolks and mix with the chocolate mixture. Pour into a frame and bake in the oven at 120°C for 15 minutes. For the mousse, cook the milk, celeriac puree and yolks to 82°C, pour on the white chocolate and emulsify. Beat the cream until lumpy and fold through. Pour into cylinder molds and freeze.
Cut strips into the fondant and place the celeriac mousse cylinder on top. Garnish with apple slices, caramelized hazelnuts, thin celery julienne and truffle slices. Finish with the Apple Blossom and the Citra Leaves.
***
Two6two
Route D 'Arlon 262 – Strassen
T  00352 621 213 208
www.two6two.lu
Recipe: Baptiste Heugens
Source: Pâtisserie & Desserts - 56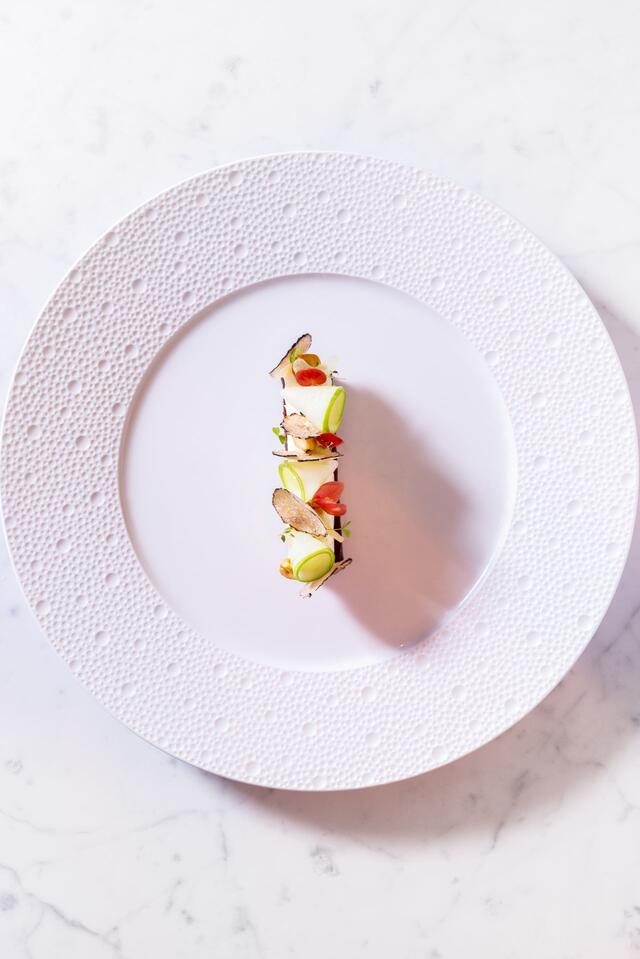 Related products
Say yes to the cress