Ingredients
(to make 4 portions)
2 punnets Persinette Cress  
250g Porcini mushroom 
4 medium-sized small squash or pattypan squash
1 small finely chopped onion
1 clove of finely chopped garlic
300g risotto rice  
175ml or one glass white wine 
800ml vegetable stock (hot)
2 tbsp double cream
25g butter
50g grated parmesan
Method
Cut each (pattypan) squash into two, deseed and blanch in salty water.
Cut two halves of squash into slices and reserve.
Cut the Porcini mushrooms into long slices and sear on both sides in a bit of butter.
Using a medium saucepan, melt the rest of the butter and add the diced chopped onions.
Let cook for 1 minute and add the garlic.
Leave to cook for 20 seconds and add the wine.
Let reduce and add the rice.
Stir the rice for 10 seconds and add half of the hot vegetable stock.
Let cook as you would normally do for a risotto, adding the rest of the stock as you need it.
Pour the double cream and mix in half of the grated parmesan at the very end.
Fold in gently the cooked Porcini mushrooms (keeping a few slices aside for the plate), the diced squash and 1 punnet of Persinette Cress.
Fill the bottom squash with the risotto and add a few slices of mushrooms on the side, the rest of the Parmesan cheese and the rest of the Persinette Cress.
Recipe: Franck Pontais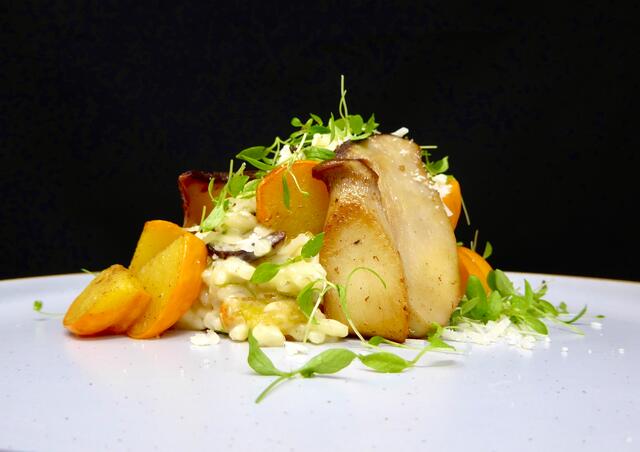 Related recipes
Gastronomical masterpieces
Related products
Say yes to the cress