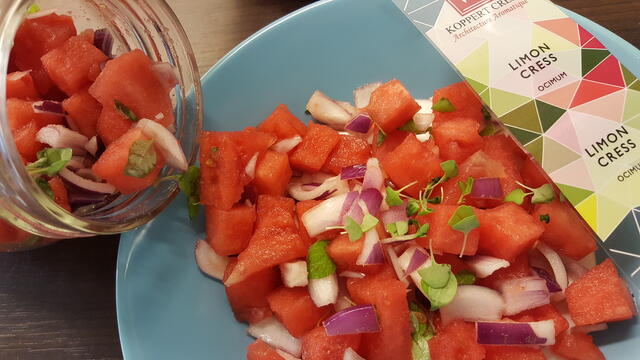 Delicious Watermelon Salsa with Limon Cress
Source: Boost Your Health
Although the summer weather is somewhat gone at the moment, I still have a delicious summer recipe for you!
Ingredients
Half a watermelon (medium size)
2 red onions
1 lime
1 cup of Limon Cress
pinch of salt
Method
Cut the watermelon into cubes. Chop the red onions and put them in a bowl with the watermelon cubes.
Add the juice of a lime and stir it together. Add all the Lemon Cress with a pinch of salt and let it rest for a while.
Put it in a handy jar that can also be closed (e.g. a Mason jar) and keep it in the fridge before use. You can keep it for up to 3 days in warm weather.
Take the pot out and use it as a side dish for the BBQ, lunch or with your fish/meat as a true taste sensation and enjoy!
Source: Boost Your Health 
Related recipes
Gastronomical masterpieces
Related products
Say yes to the cress