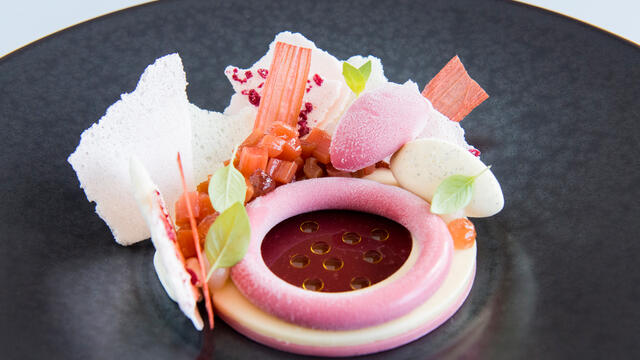 Rhubarb lychee
At Maurits van der Vooren of restaurant Latour (*) we are treated to refined desserts, full of taste and controlled creativity.
Ingredients
strawberries
rhubarb gravy
lime oil
vanilla cream
Limon Cress
lychee gel
meringues
For the rhubarb ice cream:
500 g of rhubarb
100 g of sweet white wine
100 g of sugar
1 vanilla pod
125 g egg yolk
75 g of sugar
125 g of butter
hibiscus to taste
For the lychee ice cream:
300 g lychee puree
90 g of water
grate 1 lime
85 g of sugar
30 g of glucose
1 tbsp cortina
For the lemon shots:
40 g of lemon juice
150 g white couverture
300 g of protein
80 g of sugar
grate 1 lemon
For the rhubarb crèmeux:
640 g rhubarb coulis
200 g egg yolk
175 g of protein
200 g of sugar
50 g of rhubarb syrup
300 g of butter
225 g mascarpone
13 leaves of gelatin
For the rhubarb crispy:
250 g of sugar
250 g rhubarb coulis
2 vanilla pods
4 rhubarb stems
red dye
For the lychee and hibiscus gel:
160 g of lychee coulis
7 g of ginger juice
50 g of lime juice
1/2 vanilla pod
grate 1/2 lime
6 g hibiscus flowers
15 g of sugar
1.5 g of agar
1.5 g of gellan
Method
Prepare the rhubarb ice cream as an anglaise and turbine. For the lychee ice cream, bring all ingredients to a boil, let cool and turbine. For the shots, make a smooth composition of all ingredients and make pearls in nitrogen.
For the crèmeux de coulis, bring the yolk, egg white and sugar to a boil, dissolve the gelatin in it, assemble the cooled mass with the syrup, butter and mascarpone and fill in two sizes of ring moulds.
For the crispy, boil the sugar, the coulis and the vanilla, colour with food colouring, cut thin slices of the rhubarb, pass through the mass and dry the slices in the drying tower.
For the gel, make a base of the coulis, the ginger juice, lime juice, vanilla, grater, and hibiscus. Weigh out 200 grams and make a gel with the other ingredients.
Place the crèmeux on the plate, spray a thin rim of vanilla cream on top and place a smaller crèmeux on top. Fill the ring shape with the rhubarb gravy and drop some lime oil in it.
Place the strawberry slices and rhubarb cubes on the back of the ring shape and garnish with the other components and the Limon Cress.
***
Latour Restaurant
Koningin Astrid Boulevard 5 – Noordwijk aan Zee
T  0031 71 365 11239
www.restaurantlatour.nl
Recipe: Maurits van der Vooren
Source: Pâtisserie & Desserts - 46
---
In memoriam (10 October 1983 - 23 March 2021)
As a lasting memory of an inspiring collaboration.
Instagram: https://www.instagram.com/mauritsvdvooren/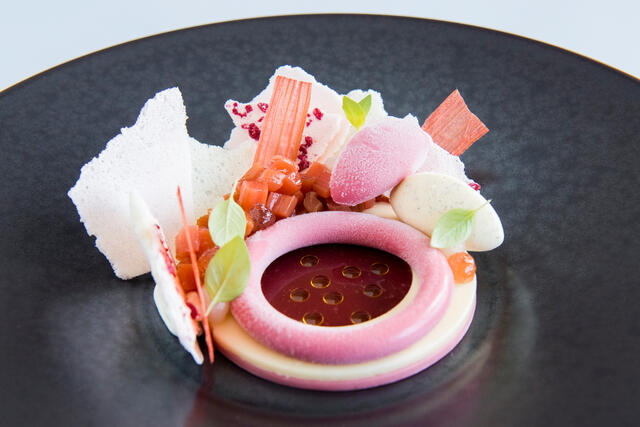 Related recipes
Gastronomical masterpieces
Related products
Say yes to the cress