Ingredients
(For 4 portions)
4 Aikiba Leaves
1 small cauliflower  
2 small pieces of butternut squash      
1L vegetable stock 
60g butter 
lemon juice of ½ lemon 
2 pinches ground nutmeg 
1 pinch table salt  
2 pinches ground white pepper   
40g cooked soya beans 
a few pumpkin seeds      
Method
Peel and cut each butternut squash sideways in two long pieces.
Deseed and cut the top of each one of them, you will obtain 4 pieces with the cavities for roasting and 4 pieces without cavity that you'll dice to make the puree.
Pour 30g of butter in a hot frying pan and sear each piece (with cavity) flat side down in order to get a nice colouration. Take out of the pan, season well and finish to cook in the oven.
Cut the cauliflower into 4 chunky slices and cook in the vegetable stock until tender.
Take out the cauliflower and use the same stock to cook the pieces of butternut squash for the puree. Once cooked drain and smash into a puree with the lemon juice, the rest of the butter, the ground nutmeg and seasoning.
Fill each cavity of cooked butternut squash with the puree, reheat and burn the cooked slices of cauliflower with a blow torch and add each piece on top.
Add the burned soya beans and pumpkin seeds.
Serve with a leaf of Aikiba Leaves.
Aikiba Leaves add a touch of sourness to the dish which makes a perfect food pairing.
Recipe: Franck Pontais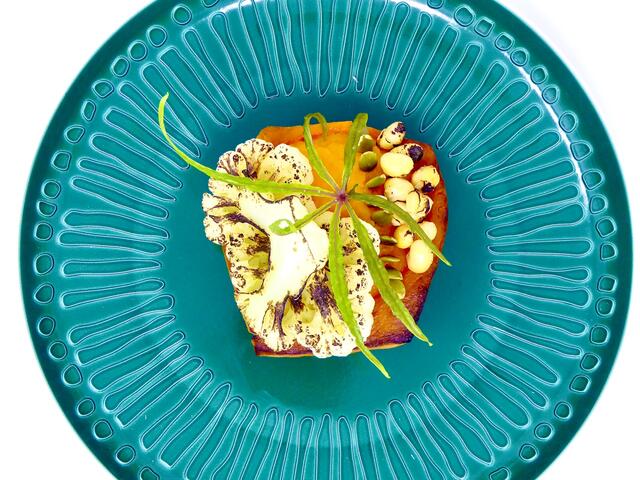 Related recipes
Gastronomical masterpieces
Related products
Say yes to the cress