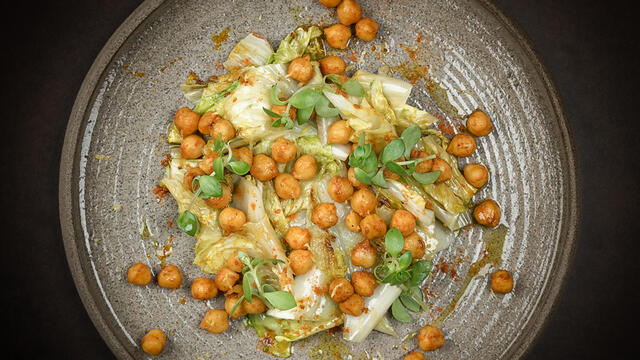 Roasted chickpea chermula with endive, lemon and Gangnam Tops
,
Frank Fol – The Vegetables Chef®
Ingredients
(For 4 portions)
Tea cup dried chickpeas
1 endive
1 lemon
2 garlic cloves
1 laurel leaf Verstegen
Chermula spice mix Verstegen
Olive oil - Iluigi
Cup of Gangnam Tops - Koppert Cress
Black pepper Verstegen
Coarse sea salt Verstegen
Method
Chickpea:
Soak chickpea in 3 x amount of water for 24 hours in the refrigerator.
Drain and rinse under cold running water.
Then bring it to the boil in water with salt, bay leaf and garlic cloves.
Cook gently under the lid.
This can take up to 2 hours.
Then let it cool in cooking liquid.
Remove bay leaf.
Toasting:
Drain the chickpea and place in a pan with a dash of olive oil.
Season firmly with chermula powder and some extra sea salt.
Stir-fry until light coloring on an (open) fire.
Endive:
Wash and cut endive into 4 cm pieces.
Stew these in some olive oil.
We make a warm salad, so the endive can shrink in a bit but it remains a crispy.
Season well with sea salt, black pepper and grate some lemon zest over it.
To finish off:
Divide the lukewarm endive on each plate. Spoon the warm chickpeas over it. Now drizzle some lemon juice, a few drops of olive oil from the pan over each preparation and decorate with a few sprigs of Gangnam tops. If necessary finish with a little chermula powder.
Recipe: Frank Fol - The Vegetables Chef®
Photo: Wim Demessemaekers, Photographer | @wim_dmskrs
Preparation time: 120 minutes 
Techniques: veggies 
Plate: Wild White Bowl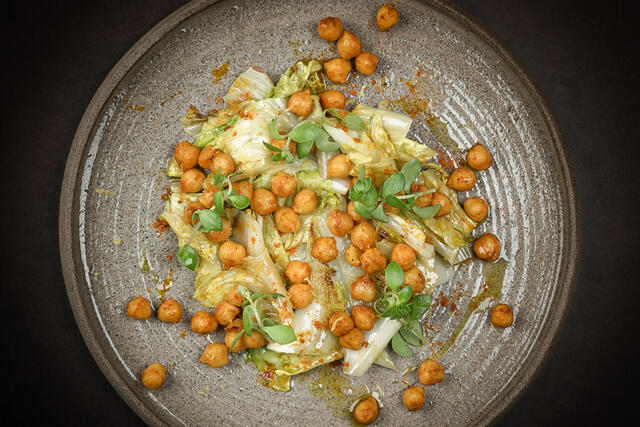 Related recipes
Gastronomical masterpieces
Related products
Say yes to the cress