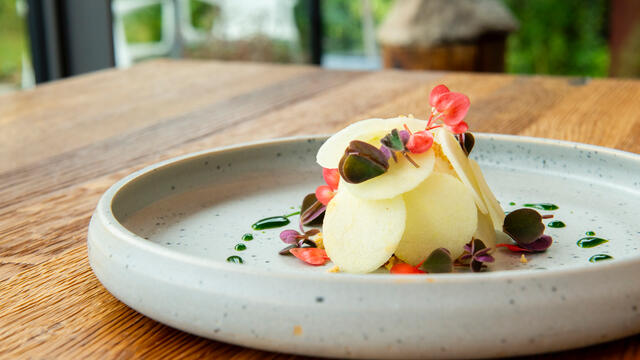 Rubinette apple, yeast, honey and Citra Leaves
We see a trend in the use of the cresses in Heiko Lacher's desserts from Restaurant Anima. He mainly chooses cresses with the sour notes.
Ingredients
Citra Leaves®
Apple Blossom
For the pickled apple slices:
5 cl freshly squeezed apple juice
2 cl lemon juice
30 g meadow honey
Citra Leaves
ascorbic acid
For the yeast ice cream:
2 dl raw goat milk
5 cl cream
20 g meadow honey
10 g yeast
50 g egg yolk
5 g stabilizer
coarse salt
For the juice of apple and Citra Leaves:
50 g Citra Leaves
1 dl apple juice
For the yeast crumble:
50 g roasted macadamia nuts
50 g rusk
50 g of baked brioche cubes
grate 1 lemon
Method
For the apple slices, bring the juice and honey to a boil, season with the ascorbic acid, add Citra Leaves® and pour on the apple slices. Pack airtight and leave to marinate for at least 2 hours.
For the ice cream, make an anglaise of all ingredients, pass through a sieve and turbine. Mix apple juice and Citra Leaves, pass through a sieve and reserve cool. Mix all the ingredients for the crumble and reserve.
Dress all components on the plate and garnish with Apple Blossom and Citra Leaves.
Citra Leaves are originally from Chile where the product grows in the Andes mountains. In Chile, the Leaves were also used as a vinegar substitute. Due to the sour taste, it was especially refreshing to chew.
***

Restaurant Anima

In Wöhrden 5 – Tuttlingen, Duitsland
T  0049 7461 7803020
www.restaurant-anima.de
Recipe: Heiko Lacher
Source: Pâtisserie & Desserts - 51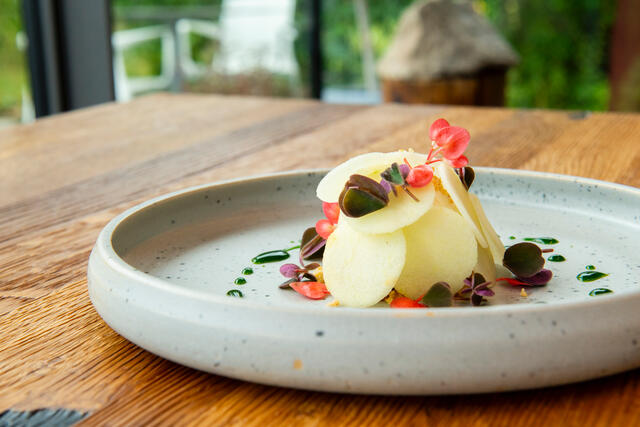 Related recipes
Gastronomical masterpieces
Related products
Say yes to the cress