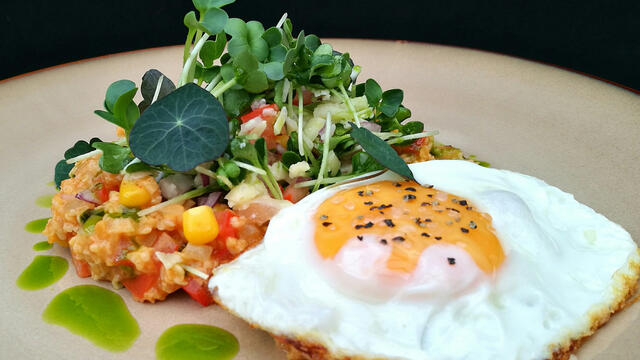 Savory oatmeal with fried eggs
,
4 portions
Savory oatmeal with onions, garlic, tomatoes, grated cheese, Daikon Cress, Zorri Cress and fried egg.
Ingredients
Eggs 4 each
Daikon Cress 1 punnet
Zorri Cress 1/6 of a punnet
Zorri Cress oil a drizzle
Dry oat 120g
Water 350ml
White onion, diced 1 small to medium
Red onions 1 small to medium
Garlic, diced 1 tsp.
Tomatoes 2 medium
Cooked sweet cor 20g
Paprika and salt 1 pinch of each
Grated cheddar cheese 80 gr
Olive oil 1 tbsps.
Unsalted butter 20g
Method
Bring to boil the 350 ml of water.
Meanwhile, pour the oil and add the butter in a hot pan, add half of the diced white onion and red onions, add the paprika and salt. Cook gently for a minute or two.
Add to the cooked onion the dry oat and stir, add the boiled water and cook gently for 3 to 4 minutes, stir time to time to stop the oat sticking to the pan.
Dice the tomatoes and grate the cheddar cheese.
Add half of the diced tomatoes and half of the grated cheese to the oat mix.
Mix together the remaining diced onions, tomatoes, grated cheese and add the Daikon Cress. 
Pour the savoury oat mix into a plate, add the mix vegetables and cheese on top, add a fried egg, drizzle with Zorro Cress oil and add a few Zorri Cress leaves.
Related recipes
Gastronomical masterpieces
Related products
Say yes to the cress