Ingredients
(For 12 canapés)
24 batonns pickled cucumber
1 medium sweet potato   
½ white onion    
12 stems of Sweet Peeper   
1 pinch of salt       
For the pickled cucumber:
One quarter of a cucumber
salt
vinegar
sugar
fresh root ginger
stem ginger in syrup
Method
For the canapés:
Slice the white onions very finely in order to make some rings.
Peel 12 regular strip out of the sweet potato and make a puree with the rest of it blanch the strip of sweet potato in salty boiling water for a few second and refresh in cold water.
Place the cooked strip on a tissue paper to remove the excess of water.
Once dry, lay the strip of sweet potatoes on a cling film.
At the beginning of each strip, place 2 batons of Pickled cucumber, one ring of raw white onions, a small spoon of cold sweet potato puree, one stem cut into 3 of Sweet Peeper and season with a bit of salt.
Wrap the strip of the sweet potato around the fillings and serve the roll on a spoon with a dried sweet potato crisp and one leaf of Sweet Peeper.
For the contents:
Cut cucumber into batons and put into a large bowl, sprinkle with salt and mix well. Leave the cucumber for 10 minutes to absorb the salt then rinse with cold water. Drain off excess liquid in a colander. Return cucumber to the large bowl.
Grate the fresh root ginger. Cut the stem ginger into thin slices.
Combine sugar, vinegar and the two types of ginger together. Add to cucumber slices and mix well.
Decant into a plastic container. Refrigerate overnight or for a few hours before serving.
Recipe: Franck Pontais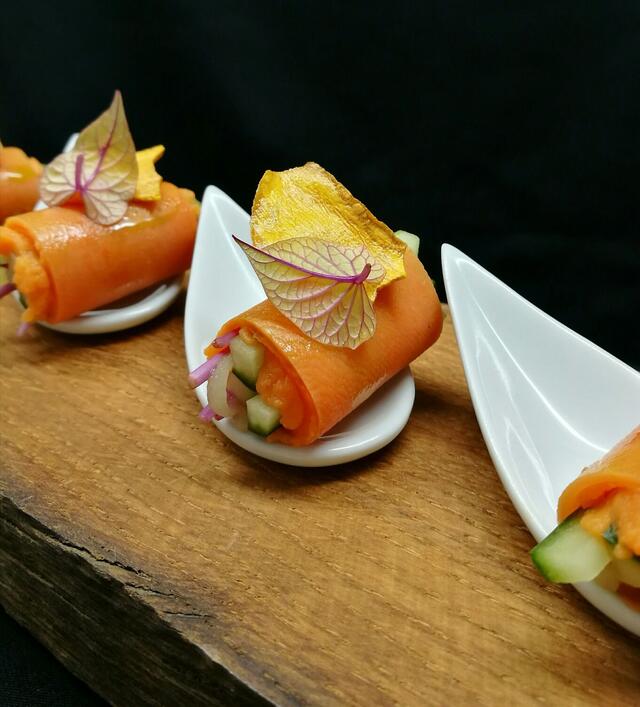 Related recipes
Gastronomical masterpieces
Related products
Say yes to the cress