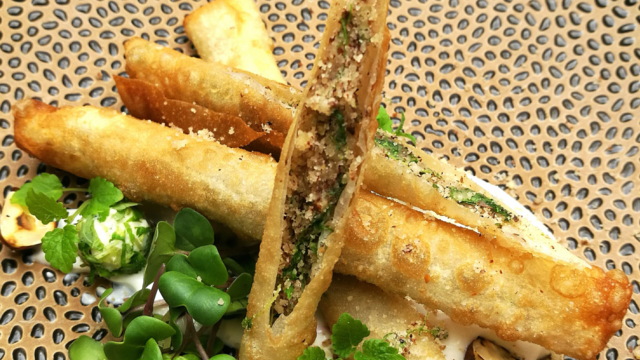 Turkish Persinette Cress Sigara Borek with Melissa Cress Pearls & Chilli Cress Dip
,
The Staff Canteen
Source: The Staff Canteen
Turkish filo "cigarettes" stuffed with Persinette Cress & hazelnut. Recipe by Hulya Erdal.
Ingredients
Borek 
6 sheets filo pastry, cut in half to make A5 rectangles
100g skin on hazelnuts
1 punnet Melissa Cress
Sunflower / vegetable oil for frying
Cheese Pearls 
250g Turkish white cheese
2 punnets Persinette® Cress
Chilli Cress Dip
150g full fat Turkish yogurt
1 punnet Chilli Cress
Rapeseed Oil
Chill Cress Dip 
Put the Chilli Cress in a little rapeseed oil and allow to infuse while you prepare the other ingredients. You can also do this overnight.
Make the yogurt dip: mix together some of the Chilli Cress and its oil with the yogurt so it has loosened the yogurt but not made it runny or too oily. Refrigerate until needed.
Cheese Pearls 
Mash the cheese down with your hands and mix in the Melissa Cress, kneading well to bring together. Shape in to tiny balls, the size of a small marble. Refrigerate until needed.
Borek 
Blitz the hazlenuts with the Persinette® Cress in a grinder to a coarse texture. Lay out the filo sheets, keeping covered while using. Make a small rectangle the size of an A5 sheet. Lay a line of hazelnut crumb at the bottom end, nearest to you, leaving.
Cooking 
Heat some oil in a frying pan to 180*C, enough to deep fry the boreks, and fry them in batches till golden brown. Be careful, they will cook very quickly.
Plating
Assemble your plate: place a dollop of yogurt on the bottom, arrange some pearls around, a few hazlenuts, heap your desired number of boreks on top and finish with more Persinette and Chilli Cress.
Tip
Use other nuts too for the borek such as walnuts or pistachios and mix in a little dried fruit like apricots or currants
Source: https://www.thestaffcanteen.com/chefs-recipes/turkish-persinette-cress-sigara-borek-with-melissa-cress-pearls-chilli-cress-dip-1572606690#/
Related recipes
Gastronomical masterpieces
Related products
Say yes to the cress