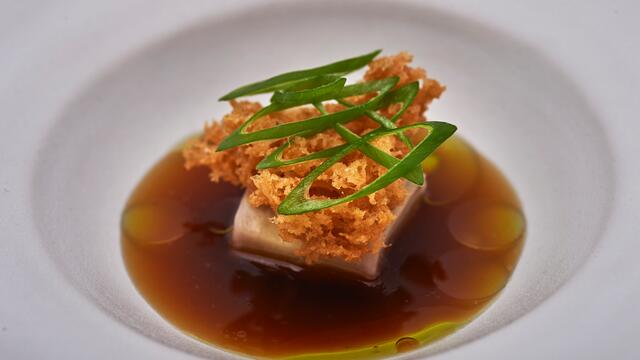 Eggplant, smoked eel, chicken skin, Persinette Cress
Alex Haupt: "This dish is representative of everything we are at 101 Gowrie. It takes me back to the past while the flavors are bold and sophisticated."
Ingredients
white soy
sake
baking powder
ginger
For the steamed eggplant:
For the smoked eel broth:
100 g white of spring onion
100 g of ginger
25 g of garlic
50 g mirin
50 g of sake
1 l dashi
1 l of water
1 kg smoked eel skin
For Persinette Cress green oil:
6 cups of Persinette® Cress
sunflower oil
For chicken skin:
250 g of cooked chicken skin
375 g of water
5 g of salt
110 g tapioca flour
Method
Halve the aubergines and sprinkle with fine salt. Let it rest for 15 minutes to remove the bitter notes and steam them in the oven at 100 ° C for 10-12 minutes.
Let them cool, remove the skin and cut the aubergine into large pieces.
Avoid using that part of the eggplant that has many seed clusters because of the unpleasant mouthfeel.
For the stock, cut the white of the spring onion, the ginger and garlic coarsely and set in sesame oil without colors.
Deglaze with the mirin and sake, reduce by half and add the eel skin, dashi and water. Bring to a boil, always removing the impurities.
Turn the heat down, let it steep for 45 minutes, turn it off and let it infuse for 45 minutes. Pass the mass through a sieve and reduce the stock by a quarter.
Flavor with white soy and sake. Blender the Persinette® Cress with double weight of oil. Transfer to a saucepan, heat to 95°C and pass the oil through a sieve.
For the chicken skin, blender all ingredients in a 100°C blender for 20 minutes and rub through a fine sieve.
Add 15 grams of baking powder per 450 grams of mass and let it rest in a deep bowl. Fill a piping bag with the cold mass and fry in oil at 180°C.
Drain on greaseproof paper and sprinkle with salt. Heat the aubergine, sprinkle with fine brunoise of ginger and salt and add warm stock.
Add the Persinette Cress oil and garnish with the chicken skin.
***
Restaurant 101 Gowrie
Govert Flinckstraat 326HS
1073 CJ Amsterdam
www.101gowrie.com
Recipe: Alex Haupt
Source: Culinary Saisonnier 94 - Fall 2019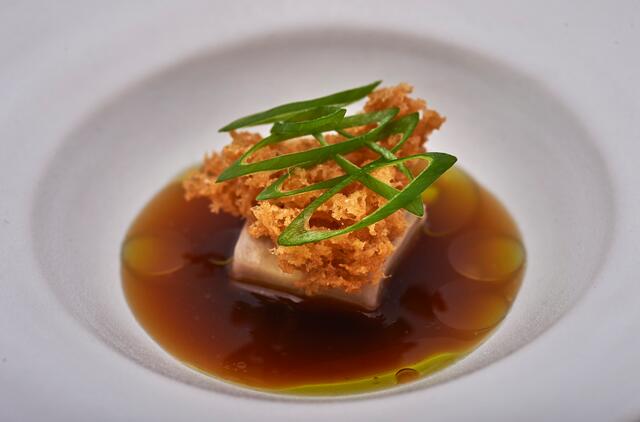 Related recipes
Gastronomical masterpieces
Related products
Say yes to the cress