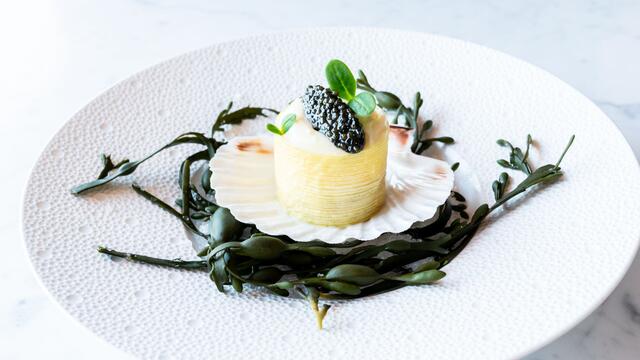 Scallops, leeks, caviar, Borage Cress
We are with Baptiste Heugens from restaurant Two6Two in Strassen, in the Grand Duchy of Luxembourg.
Ingredients
(For 4 persons)
4 scallops
4 empty shells
4 leeks
1 clove of garlic
1 sprig of thyme
1 bay leaf
1 shallot
1 dl white wine
15 cl cream
60 g oscietra caviar
1 cup of Borage Cress
For the potato espuma:
150 g of cream
150 g of milk
50 g of butter
350 g smoked mashed potatoes
Method
Cut 4 strips of leek evenly, blanch and cool immediately. Wrap each strip around an oiled ring and then dry at 80°C for 6 hours to obtain a crispy ring. Chop the remaining leeks, blanch and then sweat with the finely chopped shallot, garlic and thyme.
Deglaze with white wine, add the cream, season and reserve warm. For the espuma, heat the cream, milk and butter and add the previously smoked mashed potatoes. Season, pass through a sieve, pour into a siphon and aerate with 1 gas cartridge.
Fry the scallops in a hot pan and finish with fresh butter. Place the leek slice in the centre of the plate and garnish with leek fondue. Then put the fried scallop on top and cover with the espuma. Garnish with caviar and Borage Cress and serve immediately.
*** 
Two6two
Route d'Arlon 262, Strassen
Tel. 00352 621 213 208
www.two6two.lu
Recipe: Baptiste Heugens
Source: Culinaire Saisonnier 95 - Winter 2019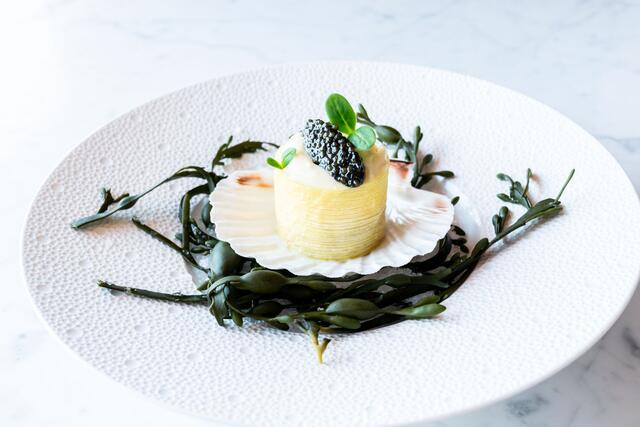 Related recipes
Gastronomical masterpieces
Related products
Say yes to the cress