Ingredients
(For 5 portions)
10g Shiso Leaves Purple
5g Sechuan Cress 
Flat iron steak: 
625g flat iron steak
salt
Pepper sauce: 
50g shallots
5g garlic
5g thyme
50g balsamico vinegar
100g red wine
200g meat stock
20g butter
25g fermented black pepper
Method
Flat iron steak:
Season the meat with salt and let it soak with the salt for a minimum of 30 minutes.  
Put oil on a pan and heat it up.  
Put the meat on the pan and brown it thoroughly.  
Put the meat in a frying pan and put it in a 170°C oven for 4-6 minutes, or to a core temperature of 52°C.  
Let the meat rest for 10 minutes before cutting it.
Pepper sauce:  
Peel the shallots and cut them into cubes.  
Put oil in a saucepan and add onion, garlic and thyme before sauté-ing it.  
Add the balsamic vinegar and cook it completely.  
Add red wine and boil it completely.  
Add veal stock and cook it in half.  
Sift the sauce into a new pan and mount it with butter. 
When serving: 
Cut the Shiso Leaves as finely as possible.  
Cut out the meat.  
Serve the Shiso Leaves and Sechuan Cress on top of the meat and serve it with the pepper sauce. 
Recipe: Søren Kyed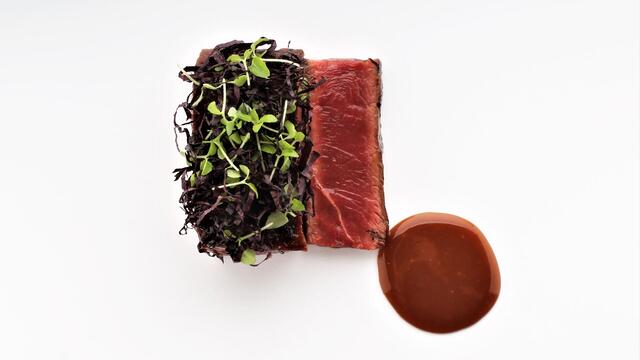 Related recipes
Gastronomical masterpieces
Related products
Say yes to the cress