Ingredients
4 punnets Melissa Cress
2 blood oranges
2 kohlrabi
1tsp pine nuts
Lemon juice of ½ lemon 
Zest of ½ lemon
1tbsp grapeseed oil
1 pinch salt and pepper
Method
To make the pesto, blend together 2 punnets of Melissa cress, the lemon juice, zest, grapeseed oil, pine nuts and season.
Peel and slice the kohlrabi with a mandolin and place on the plate.
Soak the slices in water with a bit of lemon juice for 30 minutes, then drain them, and lay on kitchen paper to remove the excess of water.
Cut some segments out of the blood orange and burn/blow torch them. If blood oranges are out season, pink grapefruit would also work well.
Arrange the slices of Kohlrabi at the bottom of the plate and add the orange segments.
Drizzle some Melissa pesto and finish with fresh Melissa.
Serve.
Note:
Halloumi cheese can be used to make the pesto instead of the pine nuts if you need to cater for allergies.
Recipe: Franck Pontais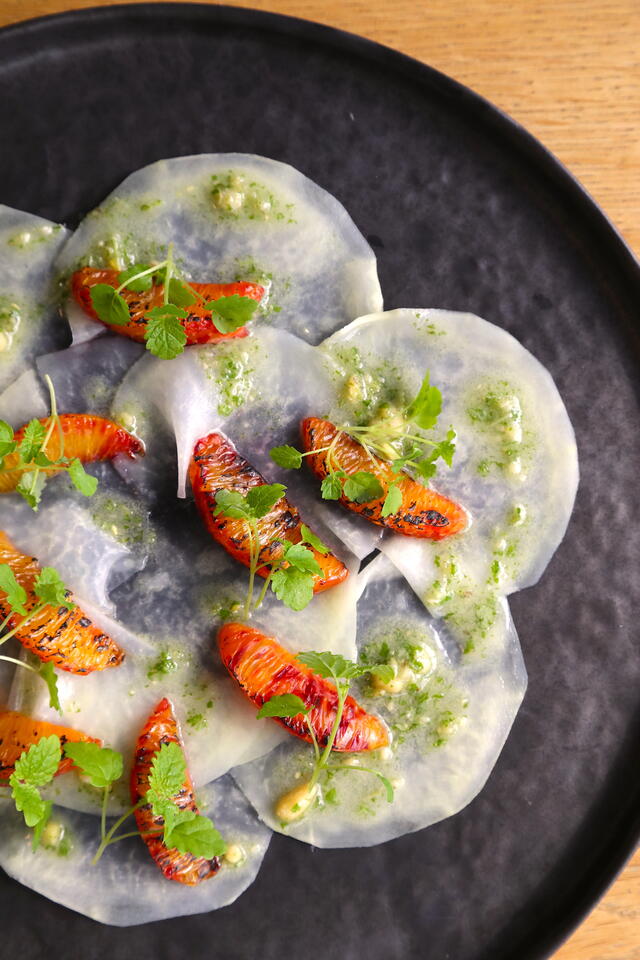 Related recipes
Gastronomical masterpieces
Related products
Say yes to the cress