Ingredients
(For 4 persons)
Soup:
500 g sea kale
2 onions
1 small piece of ginger
small piece of allspice without seeds
curry powder
turmeric
Garnishes:
1 scoop of burrata mozzarella
40 g Salty Fingers
1 lime
a few leaves of lemon verbena
Method
Soup:
Finely chop the sea kale, onions, ginger and allspice.
Add half a liter of water and add a pinch of curry powder and a pinch of turmeric.
Cook the vegetables and mix into a smooth soup. Put in the fridge.
Divide the cold soup between the plates and finish with a few pieces of burrata mozzarella, Salty Fingers and lemon verbena.
Drizzle with some lime and some grated lime zest.
TIP! Sea & dune vegetables are in! Due to their salty taste, they can add a natural salt content to the preparations. So keep in mind that the salt feeling is already high and therefore no or very little extra salt is needed.
Recipe: Frank Fol - The Vegetables Chef®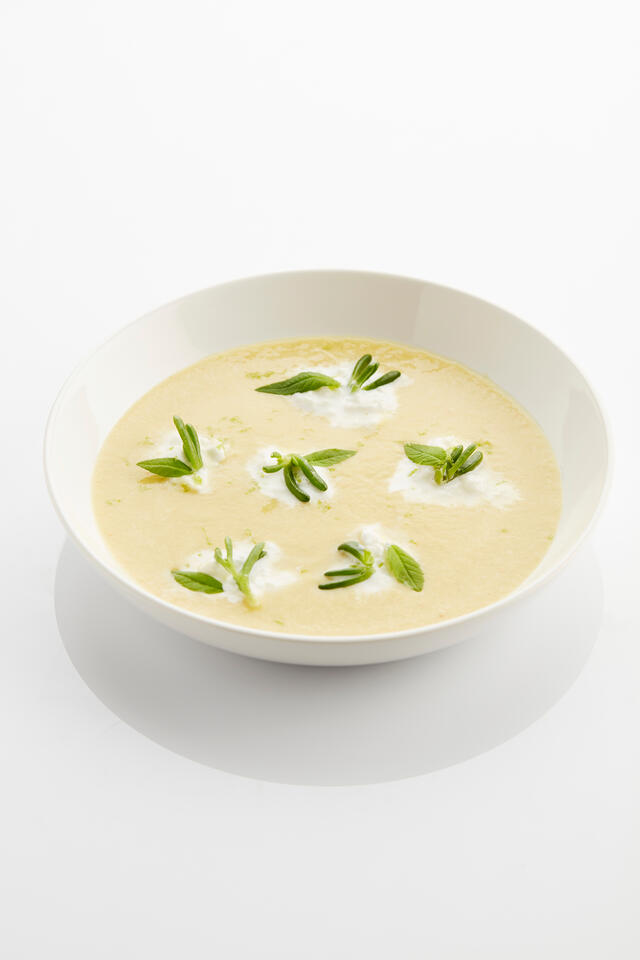 Related recipes
Gastronomical masterpieces
Related products
Say yes to the cress