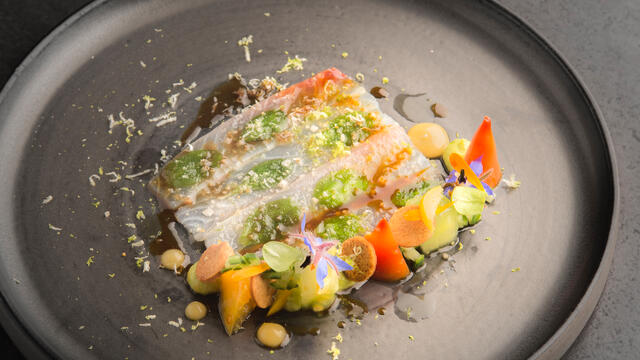 Mullet, Borage Cress, avocado, soy
Cyril Molard creates greatness through the combination of ingredients that have been thoughtfully combined in a minimalistic fashion, with craftsmanship as the connecting factor.
Ingredients
4 pieces of 100 g mullet
1 l of water
30 g of salt
2 lemon peels
cucumber in brunoise
candied lemon
crispy pasta
tomatoes
Borage Cress
borage flowers
olive oil
lemon olive oil
For the avocado:
100 g of cucumber
100 g avocado
30 g of whipped cream
8 g cilantro
1 g of salt
For the lemon paste:​
1 kg of lemons
200 g of sugar
1 l poultry stock
For the bone gravy:​
500 g mullet bones
100 g vegetable bouquet
100 g of soy juice
500 g poultry stock
olive oil
butter
Method
Heat the water with the salt and lemon zest, allow to cool and add the same weight in ice.
Place the mullet fillet in this brine for 10 minutes, remove, pat thoroughly and slice each fillet. Blend all the avocado ingredients until it's smooth, season and fill a piping bag.
Prepare the lemon paste as in the previous recipe.
For the gravy, set the fish bones in olive oil, degrease and add some butter. Add the bouquet and deglaze with the soy juice. Mousse with the poultry stock and let it steep for 1 hour.
Reduce the gravy by half and pass through a sieve. Dress the mullet together with the garnishes and spoon in the gravy.
***
Ma Langue Sourit
1, rue de Remich, Moutfort
T. 00352/263 520 31
www.mls.lu
Recipe: Cyril Molard
Source: Culinaire Saisonnier 82 - Fall 2016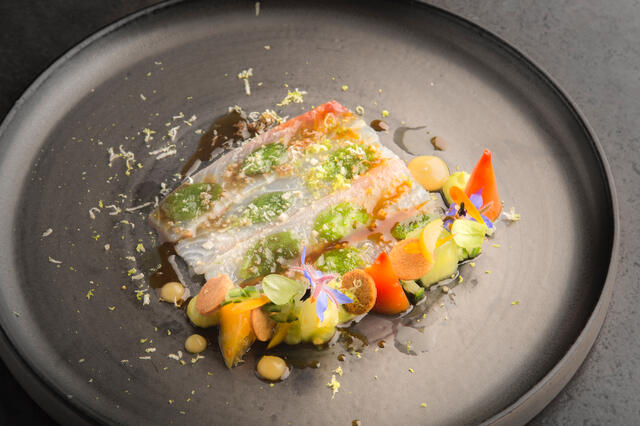 Related recipes
Gastronomical masterpieces
Related products
Say yes to the cress