Ingredients
Blackberry - yolk:
100g blackberries
10g sugar
1 sheet gelatine
1 package of Sechuan Buttons
Peach mousse:
150g peach puree
3 mint leaves
squeeze of ½ lemon
3 spoons of apricot compote
120ml double creme
3 tbsp greek yoghurt
1 tbsp sugar
2½ sheets of gelatine
Coating:
1 cup white chocolate
1 tbsp cocoa butter
powdered chocolate
red food colouring
Streusel  (all in cup measurement):
⅓ light brown sugar
⅓ sugar
½ plain flour
⅓ butter
⅓ teaspoon of cinnamon
Custard:
100 ml cream
100ml milk
50g sugar
½ tablespoon of cornflour
2 egg yolks
2 vanilla beans
Garnish:
chocolate shards
cherry
peach
mint leaves or edible flowers
Method
Blackberry - yolk:
Cook berries and sugar until it's a little thicker. 
Add gelatine, blitz and pass through sieve, add all yellow part of the Sechuan Buttons and blitz again.
Transfer in semi sphere molds and freeze overnight until you need them.
Put 2 semi spheres together and secure with a toothpick. Put back into the freezer.
Peach mousse:
Blanch 4 peaches, peel them and put them in blitzer with mint leaves, apricot compote, lemon juice, sugar and blitz to smooth puree.
Pass it through a sieve into a saucepan, warm up mixture and mix in gelatine softened in water.
Whisk cream to soft peak, add yogurt and incorporate, fold together cold peach mixture and cream mixture.
Fill the silicon egg shape mold half way with mixture and put in freezer for 30 minutes.
After 30 minutes pull out of freezer, place blackberry sphere in middle of mold and fill up with remaining peach mousse.
Freeze overnight.
Coating:
Melt chocolate and cocoa butter over bain marie and let cool to 30°C.
Unmold eggs and dip them in chocolate mixture and swirl them so they are coated all equally.
Immediately dust them with chocolate powder to achieve real egg shell look.
Option 2: swirl a little bit of red food colouring in the chocolate mixture to make it look like marble. Immediately dip egg in to it and swirl to achieve marble effect - you can use any colour not just red. 
Streusel (all in cup measurement):
Mix all ingredients together to achieve crumble spread it on silicone mat and bake at 180°C for about 10 minutes.
Let it cool down and break crumble by hand. 
Custard:
Scrape vanilla seeds to milk and cream mixture and heat on stove.
In the meantime, whisk egg yolks sugar and corn flour until increase little volume.
Pour over milk mixture and whisk.
Put it back on stove and cook until thickness do not pass 80°C. 
Recipe: Peter Zemla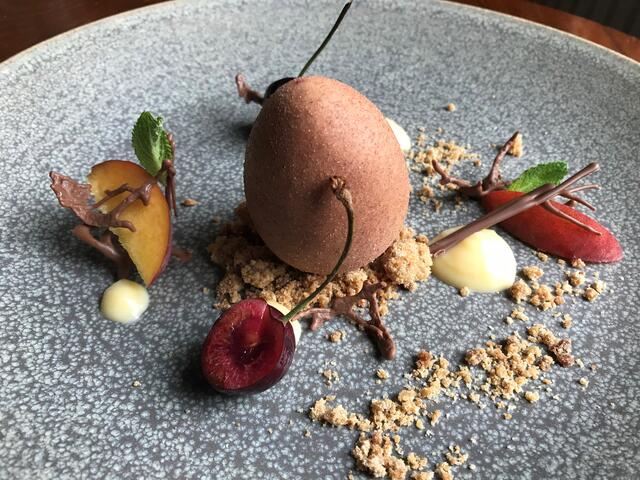 Related recipes
Gastronomical masterpieces
Related products
Say yes to the cress