Ingredients
(For 4 servings) 
Deer stew: 
1 tbsp red junk herb 
1.5 tbsp of color salt 
10 juniper berries 
1 bay leaf
20 turns of pepper 
50 ml olea olive oil (Sabores) 
4 slices of Schouws venison of 160g 
Pommes fondant: 
8 pieces Opperdoezer Ronde potato
8 slices of Zeeland bacon 
1 sprig of thyme 
Vegetable garnish: 
200 g parsnips 
30 g butter 
100 g sea lavender 
½ chopped shallot
Celeriac cream: 
250 g celeriac in cubes 
80 ml of cream handful of white chocolate 
black salt 
Spring onion: 
4 spring onions 
flour
olive oil 
smoked salt 
Amsterdam onion and honey sauce: 
200 g Amsterdam onions 
2 tbsp clarified butter 
2 tbsp Zeeland clover honey 
150 aceto balsamic vinegar 
75 ml game stock 
Beemster cheese crispy: 
100 g Oude Beemster cheese crispy
 Format: 
24 double shelled blanched broad beans 
Scarlet Cress
Method
Deer stew:
Mix all ingredients and put this in a vacuum bag with the deer concoction. Cook sous vide at 64°C for 15 hours. Bake just as nicely.
Pommes fondant:
Turn the potatoes and place them flat side down in a non-stick pan. Sprinkle with salt and pepper and add the bacon and thyme. Fill the pan with water to just above the potato. Bring to a boil, boil dry and cook for another minute.
Vegetable garnish:
Cut the parsnip à brunoise and stew it in butter with a little water. Turn on the lamb's ears and the shallot. Mix together and season to taste.
Celeriac cream:
Cook the celeriac sous vide with cream, salt and pepper at 73°C. Puree with the chocolate and rub through a hair sieve. Garnish on the plate with black salt.
Spring onion:
Blanch the spring onion including carrots. Dip the carrots in flour and fry until crispy and golden brown. Burn the stem with a gas burner and top with olive oil and smoked salt.
Amsterdam onion and honey sauce:
Put the onions in the clarified butter. Add the honey and vinegar. Reduce to syrup thickness and then add the stock. Reduce to the desired taste and thickness and finish with salt and pepper.

Beemster cheese crispy:
Finely grate the cheese with the microplane and spread on a baking mat. Bake for 18 to 20 minutes at 150°C and then cut strips of 2.5 cm wide. Heat again and shape the strip around a cutting ring. Top it all off with Scarlet Cress.
Winesuggestion: Mirassou Pinot Noir uit Californië 
Recipe: Dennis Willems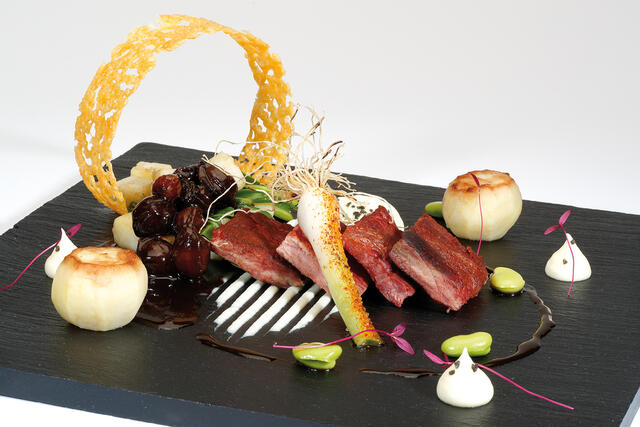 Related recipes
Gastronomical masterpieces
Related products
Say yes to the cress