Ingredients
(for 4 portions)
1 punnet Vene Cress
1 medium-sized squash
1 tsp molasse (date) 
2 tbsp olive oil 
2 Brussels sprouts 
2 pinches of ground white pepper
Method
Blanch the Brussels sprouts in salty water, refresh and cut into quarters.
Peel and cut the squash, make 4 batons of 1 cm thick and 8 cubes and slice the rest.
Blanch the batons and cubes and refresh.
Roast half of the slices in a hot oven with 1 tsp of olive oil with the white ground pepper.
Steam the other half, once cooked, crush to make a puree and pass through a fine sieve to get a smooth mousseline.
Dress the plate placing the baton at the centre, add the cubes some roasted slices.
Pipe a few dots of mousseline.
Add the wedges of Brussel sprout, a few drops of cooking juice and a few dots of molasse dates.
Finish with the Vene Cress and serve.
Recipe: Franck Pontais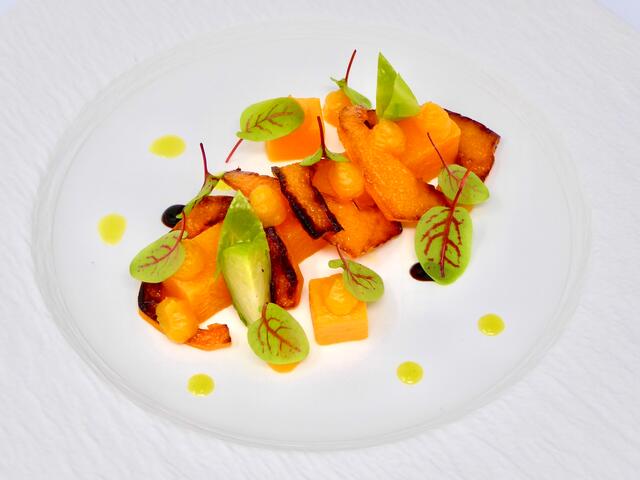 Related recipes
Gastronomical masterpieces
Related products
Say yes to the cress