Ingredients
(For 4 portions)
1 punnet Rock Chives
1 punnet Atsina Cress
125gr dried lentils
125gr lardons
2 medium sweet potatoes
2 banana shallots
500ml vegetable stock
1 tbsp olive oil
Method
Peel the sweet potato and make some "tagliatelle" using an appropriate peeler.
Blanch the sweet potato "tagliatelle" in boiling water with a pinch of salt for no more than 20 seconds, refresh, and reserve.
Soak the dry lentils in cold water for two hours, rinse and cook in the vegetable stock, reserve.
Peel and cut the shallots into fine slices.
Drizzle the olive oil at the bottom of a frying pan and add the lardons, then add the sliced shallots after one minute.
Add to the pan the lentils, freshly cut Rock Chives and Atsina Cress and the sweet potato tagliatelle. Fold together gently.
Serve hot.
Recipe: Franck Pontais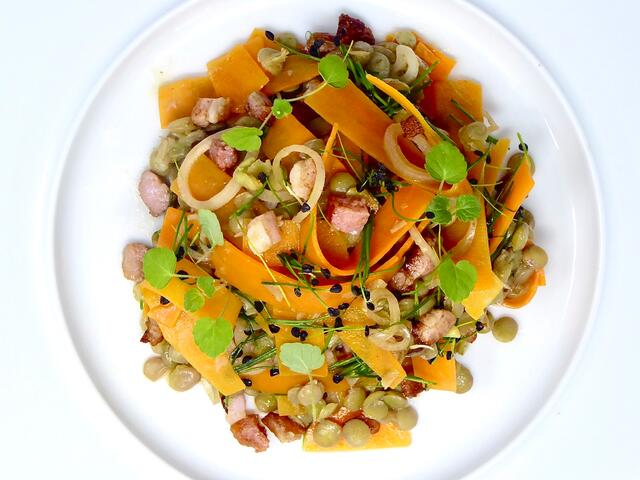 Related recipes
Gastronomical masterpieces
Related products
Say yes to the cress