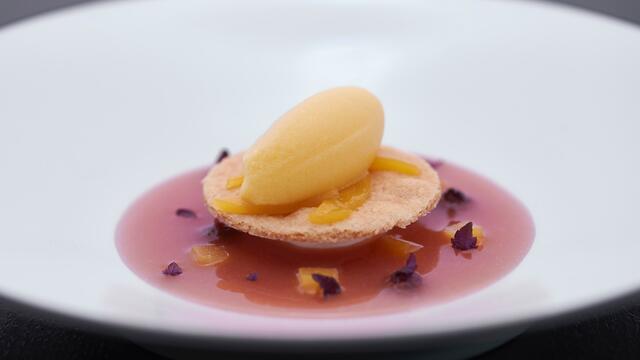 Hand-beaten mascarpone, yellow peach with Shiso and hazelnut sable
Chef Sébastien from restaurant Ogst: "Small flavour bombs have to add surprising elements to my apparently austere desserts, in which the complexity is not always visible."
Ingredients
Shiso Purple
slices of poached peach
cubes of poached peach
For the mascarpone:
400 g of mascarpone
6 ripe yellow peaches
20 g powdered sugar
40 g of granulated sugar
10 Shiso Leaves Purple
For the hazelnut sablé:
375 g of butter
410 g of sugar
10 g of salt
325 g of flour
350 g of hazelnut
For the peach and citrus sorbet:
1 l peach gravy
25 cl lime juice
25 cl of milk
100 g stabilizer
60 g of sugar
Method
Cut the peaches small and stew them with some sugar and the Shiso Leaves Purple on low heat with a little water. Drain the mass well in a sieve and reserve the moisture.
Brown the nuts for the sablé, blend them finely and mix with the other ingredients. Spread the mass between two sheets of baking paper and freeze. Cut out rings of 5 cm diameter and bake them golden brown in the oven at 150°C.
For the sorbet, mix all ingredients and turbine. Beat the mascarpone with the powdered sugar. Spoon the mascarpone in the centre of the plate and place the sablé on top.
Garnish with the peach slices and place a quenelle of ice on top. Pour the peach juice around it and place cubes of peach and leaves of Shiso Purple in the juice.
***
Restaurant Ogst 
Ridder Portmansstraat 4 – Hasselt
T  0032 11 41 38 13
www.ogst.be
Recipe: Sébastien Wygaerts
Source: Pâtisserie & Desserts - 50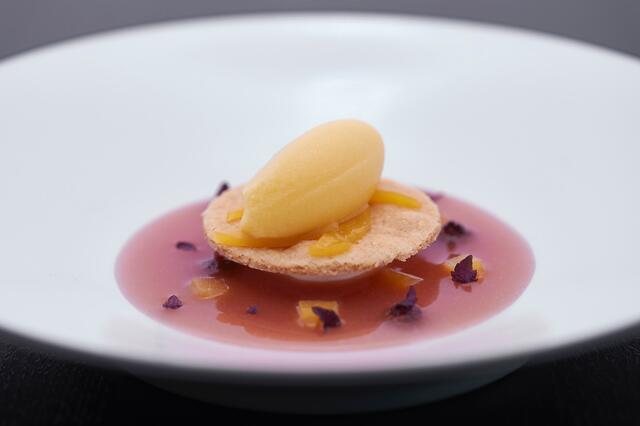 Related recipes
Gastronomical masterpieces
Related products
Say yes to the cress