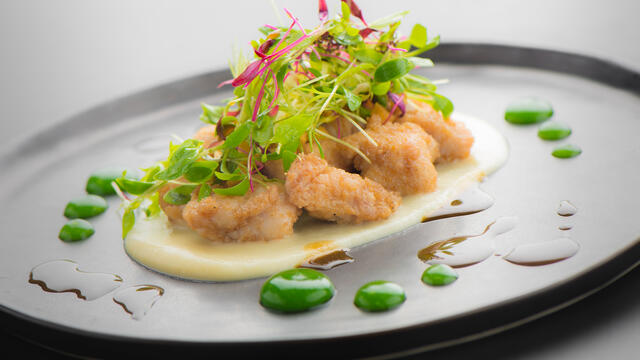 Lamb sweetbreads with cinnamon flowers, celery cream, honey salad and wheatgrass
Source: https://www.saisonnier.net
The kitchen of Haus Stemberg also symbolizes the family of simple hard-working people who fully propagate gastronomy here every day.
Ingredients
For the sweetbread:
400 g rinsed and chopped sweetbreads
1 tbsp mie de pain
40 g beurre noisette
1 tbsp chopped flat-leaf parsley
juice of 1/2 lime
pinch of ground cinnamon blossom
For the honey salad:
80 g of lettuce depending on the season
1 tsp acacia honey
soy sauce
White wine vinegar
grape seed oil
For the wheatgrass gel:
3 cups of wheatgrass
3 dl apple juice
3.2 g of agar-agar
salt
sugar
citric acid
Method
For the salad, mix the honey, soy sauce, vinegar and oil into a dressing. For the gel, boil the apple juice with the agar-agar, salt, sugar and citric acid over high heat for 20 seconds and allow to cool.
Mix the composition with the wheatgrass in the blender just before gelling, pass through a fine sieve, allow to cool and blend again until smooth.
For the sweetbreads, heat the beurre noisette in a pan, fry the sweetbreads and add the noodles and lime juice at the end. Flavour the sweetbreads with the parsley and the cinnamon blossom.
Serve the sweetbreads on the warm celery cream, place the prepared herb salad on top and sprinkle with a few dots of gel.
***
Haus Stemberg
Kuhlendahler Strasse 295 - Velbert-Neviges
0049 205 356 49
www.haus-stemberg.de
Recipe: Sacha Stemberg
Source: Culinaire Saisonnier 80 - Spring 2016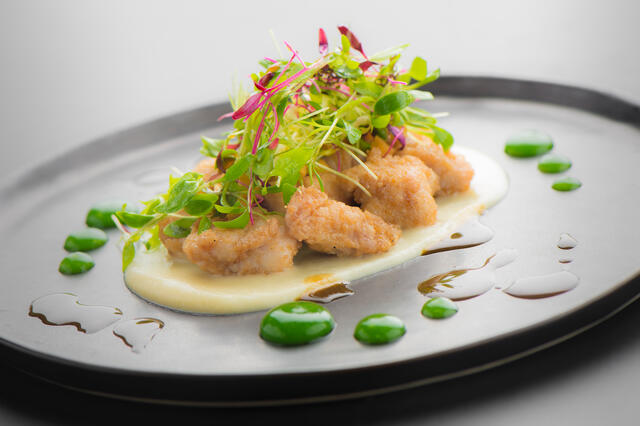 Related recipes
Gastronomical masterpieces
Related products
Say yes to the cress