Ingredients
(For 1 portion) 
0.5 ltr sheep's milk 
20 g gelatine sheets 
1 vanilla stick sugar 
1 goat cheese in oil from "De Molkerij"
Cornabria Blossom 
Anise Blossom 
3 eggs 
Red fruit
Method
Soak 20 g gelatin leaves in cold water.
Heat ½ liter of sheep's milk with the vanilla pod cut open and three egg yolks.
Heat this while stirring until you get a custard. Remove the vanilla pod.
Then add the squeezed gelatin and stir, let it cool until the mass becomes lumpy. Set aside the egg whites in a fat-free bowl to whip it up later. Beat the egg white, add some sugar and beat it again, continue this process until you have a nice stiff egg white.
When the custard has cooled down enough, fold in the egg whites. If the mixture remains a bit loose, you can beat it with the whisk. Pour the mixture into a container and let it stiffen well. Remove the goat cheese from the oil and let it drain well. If necessary, pat dry with paper.
Cover the cheese with some honey and sugar. Caramelise this with a crème brûlée burner.
Spoon two quenelle sheep's milk mousse on a plate, add the goat cheese cut in half and garnish the plate with some red fruit and colorful Koppert Cress flowers: Cornabria Blossom and Anise Blossom.
If the goat cheese has not melted enough, you can heat it up in the oven or microwave before cutting.
Recipe: Willem Roeper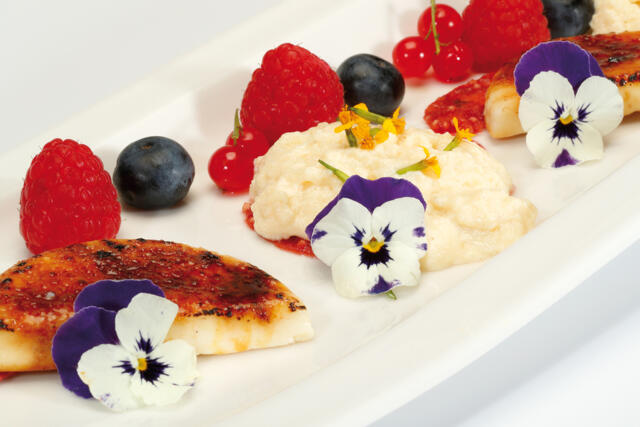 Related recipes
Gastronomical masterpieces
Related products
Say yes to the cress