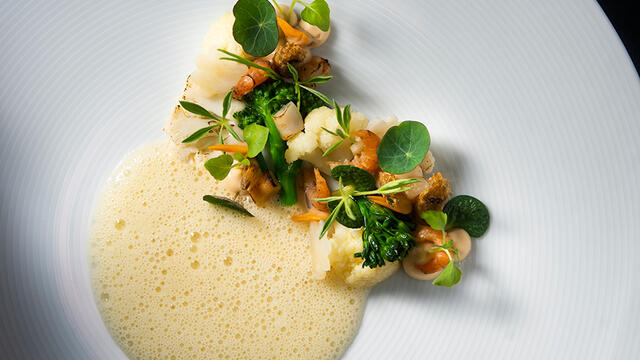 North Sea mussels and shrimps
Torben Schuster: "I prefer to cook what I like and especially with the cold dishes I sometimes want to bring some theatre to the plate, although always functional."
Ingredients
Sea Fennel
Salty Fingers®
Pass Pierre
Capuchin leaf
shrimps
razors
clams
ponzu
lime
oil
White wine
For the cauliflower:
1/2 cauliflower
sour marinade
apple beurre blanc
salt
cayenne pepper
For the bimi:
For the apple beurre blanc:
500 g granny smith juice
lemon juice
cayenne pepper
2 g of soy lecithin
xantana
500 g beurre noisette
For the ponzu cream:
100 g of protein
100 g yoghurt
60 g ponzu
5 dl oil
Method
Peel the shrimp, dry the carcasses and heads, deep fry them and season with lime and ponzu. Sweat the clams with some oil and white wine.
Freeze the razors, open them, cut into small pieces and season with lime and ponzu. Cut some cauliflower florets from the cauliflower and pickle them.
Cut the rest of the slices, place in the apple beurre blanc and season with salt and cayenne. Blanch the bimi and season with the dressing. Burn the cauliflower florets.
Make a beurre blanc, bind with lecithin and xantana and assemble with the beurre noisette. Mix all ingredients of the cream and blender until homogeneous.
Dress all components on the plate and garnish with the cresses.
***
Restaurant Gut Lärchenhof

Hahnenstraße 1, Pulheim, Duitsland
T 0049/2238 9231016
www.restaurant-gutlaerchenhof.de
Recipe: Torben Schuster
Source: Culinaire Saisonnier 93 - Summer 2019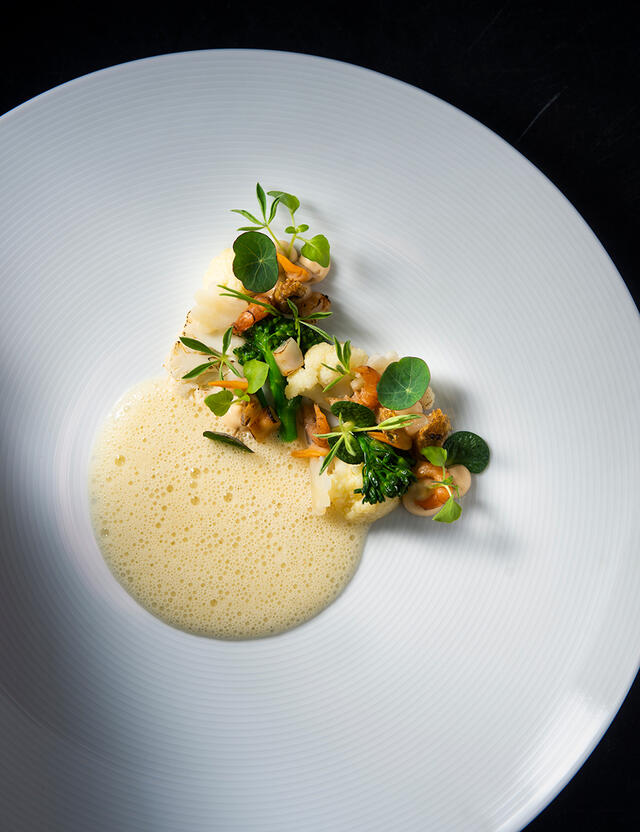 Related recipes
Gastronomical masterpieces
Related products
Say yes to the cress