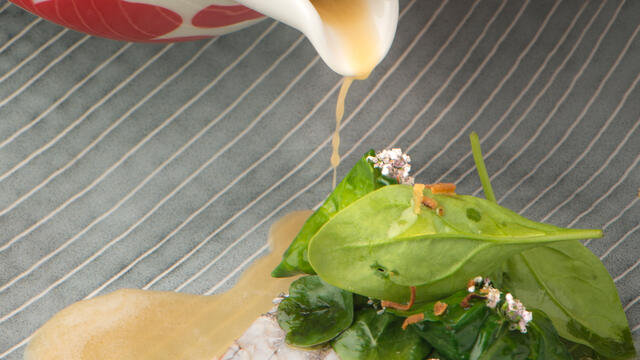 Meagre, Motti Cress, coconut, sereh, goosefoot
Cyril Molard creates greatness through the combination of ingredients that have been thoughtfully and combined in a minimalistic fashion, with craftsmanship as the connecting factor.
Ingredients
4 pieces of 100 g meagre
1 l of water
30 g of salt
2 lemon peels
goosefoot
young spinach leaves
Motti Cress
coriander flowers
roasted coconut
hazelnut butter
pink garlic
sage scented fleur de sel
For the coconut puree:
300 g celeriac
50 + 50 g coconut milk
20 g of roasted coconut
50 g of cream
For the coconut stock:
1 kg meagre bones
200 g onions
20 g of garlic
1 l poultry stock
3 pieces of lemongrass
1 grated coconut
olive oil
butter
Method
Prepare a wet brine from the water, salt and lemon zest. Allow to cool and dip the meagre in it for 10 minutes. Cook the fish at a low temperature for a minute.
For the puree, put the celeriac together with 50 g coconut milk under vacuum and cook at low temperature. Let the other 50 g coconut milk infuse with the cream and the grated coconut.
Blend the celeriac with the cooking juices and the pulled cream, season and reserve. For the stock, add the bones to olive oil and add the chopped onions, garlic and sereh.
Add the poultry stock and the grated coconut, cover with foil and leave to infuse for 2 hours. Reduce the mass by half, pass through a sieve and season.
Assemble the broth à la minute with butter. Sweat the goosefoot in some butter with the garlic, drain and season with fleur de sel.
Dress the coconut puree on the plate and add the fish. Garnish with the goosefoot, the other herbs and the cress. Garnish with roasted coconut and add the warm stock.
***
Ma Langue Sourit
1, rue de Remich, Moutfort
T. 00352/263 520 31
www.mls.lu
Recipe: Cyril Molard 
Source: Culinaire Saisonnier 82 - Fall 2016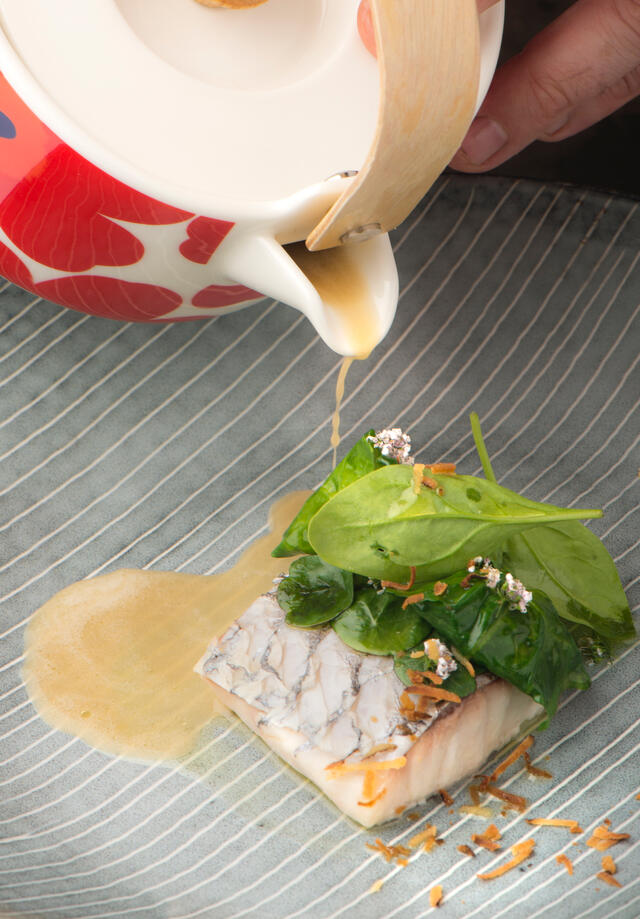 Related recipes
Gastronomical masterpieces
Related products
Say yes to the cress