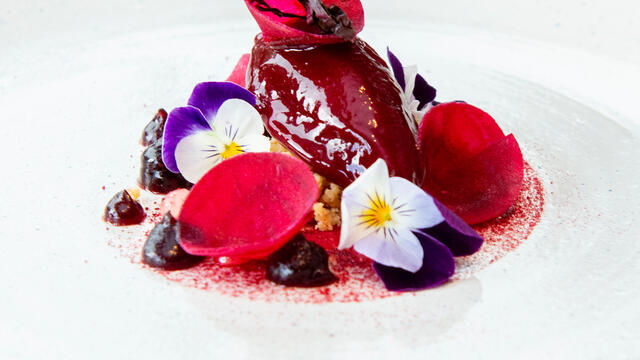 Beetroot, Cherries, Yka Leaves and Salted Almond
We see a trend in the use of the cresses in Heiko Lacher's desserts from Restaurant Anima. He mainly chooses cresses with the sour notes.
Ingredients
Yka Leaves®
bergamot
Cornabria Blossom®
cherry angel
For the pickled beetroot:
5 cl beetroot juice
20 g of sugar
2 cl cherry vinegar
Tasmanian pepper
thin slices of beetroot
For the beetroot ice cream:
5 cl sugar syrup
6 dl fresh beet juice
3 leaves of gelatin
25 ml of cherry vinegar
5 g citras
100 g of glucose
Tasmanian pepper
coarse salt
For the salted almond crunch:
30 g finely ground
roasted and salted almonds
30 g of sugar
30 g wheat flour
30 g of brown butter
10 g sliced Yka Leaves
For the dehydrated beetroot:
thin slices of beetroot
ascorbic acid
yogurt powder
Method
Bring all the ingredients for the pickled beet to a boil and pour on the beet slices. Mix all the ingredients for the ice cream, season with salt and pepper and freeze in frix or paco cups.
Mix everything for the crunch and bake in the oven at 160°C until golden brown. Dry the beet slices and mix with ascorbic acid and yoghurt powder. Dress on the plate and garnish with the cress and cherry gel.
***

Restaurant Anima

In Wöhrden 5 – Tuttlingen, Duitsland
T  0049 7461 7803020
www.restaurant-anima.de
Recipe: Heiko Lache
Source: Pâtisserie & Desserts - 51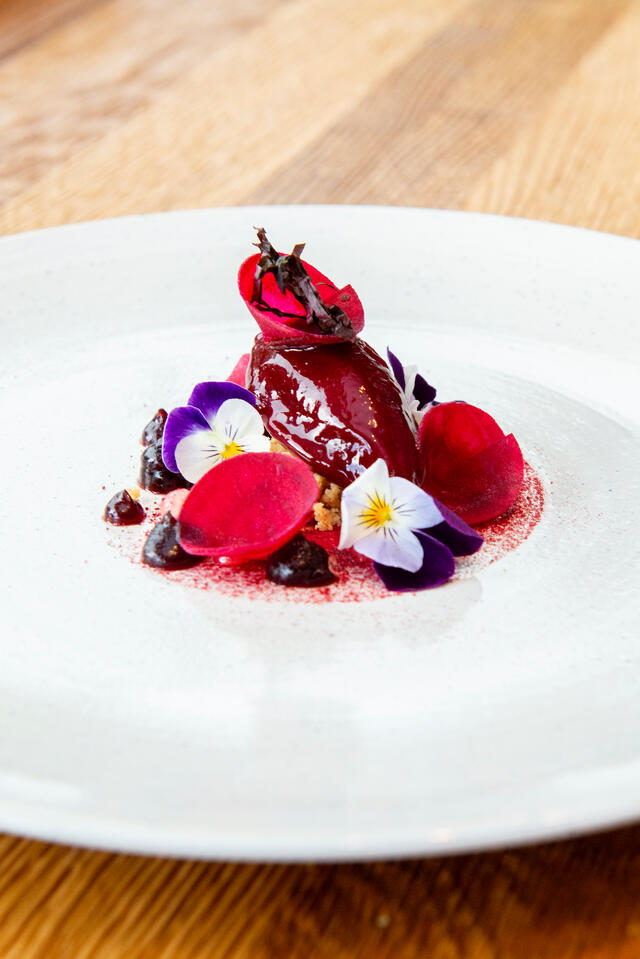 Related recipes
Gastronomical masterpieces
Related products
Say yes to the cress