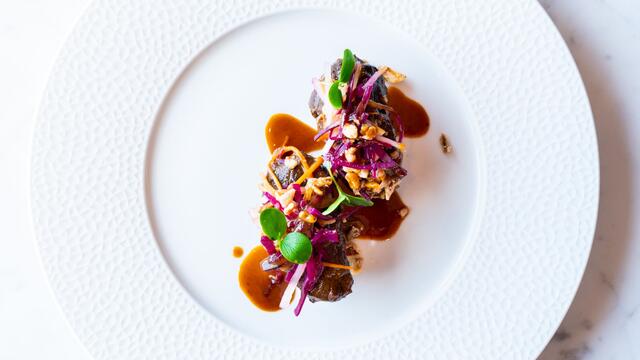 Pork cheek, pickled cabbage and carrot, Tahoon Cress
We are with Baptiste Heugens from restaurant Two6Two in Strassen, in the Grand Duchy of Luxembourg.
Ingredients
For 4 persons:
8 pork cheeks
aromatic bouquet
50 g of butter
60 g of honey
1 dl peated whiskey
2 dl white wine (not too dry)
veal gravy
1 onion
100 g flour
1 cup of Tahoon Cress
For the barbecue sauce:
For the pickles:
200 g of water
100 g of white balsamic vinegar
20 g of sugar
5 g of salt
2 carrots
1/4 white cabbage
1/4 red cabbage
Method
Colour the onions for the sauce and grill them on the barbecue. Continue to fry in a pan, add the honey, let it cook covered and then mix. Colour the cheeks in a roasting pan and drain. Then sweat the aromatic bouquet, deglaze with whiskey and white wine and simmer for a few minutes.
Add the cheeks, followed by the barbecue sauce, cover with gravy and simmer for 2 hours. Divide the previously dissolved mixture for the pickles between three pans and cook the white cabbage, red cabbage and the carrots cut in julienne separately. Cool immediately and reserve.
Finely chop the onions, pass through the flour and fry in oil at 180°C. Place the cheeks on the plates and cover with the sauce. Place the pickles on top and sprinkle with fried onions and Tahoon Cress.
***
Two6two
Route d'Arlon 262, Strassen
Tel. 00352 621 213 208
www.two6two.lu
Recipe: Baptiste Heugens
Source: Culinaire Saisonnier 95 - Winter 2019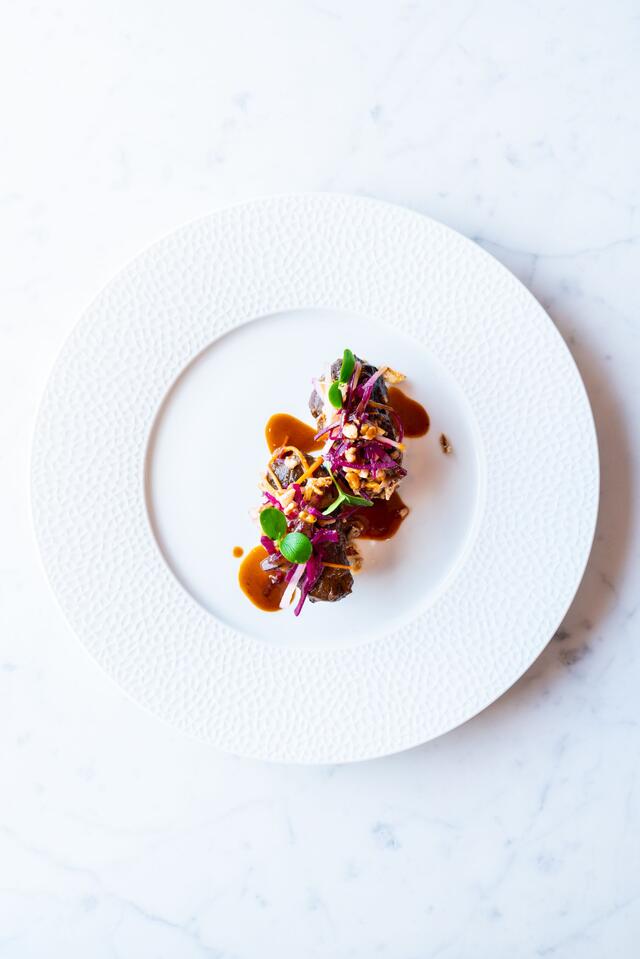 Related recipes
Gastronomical masterpieces
Related products
Say yes to the cress