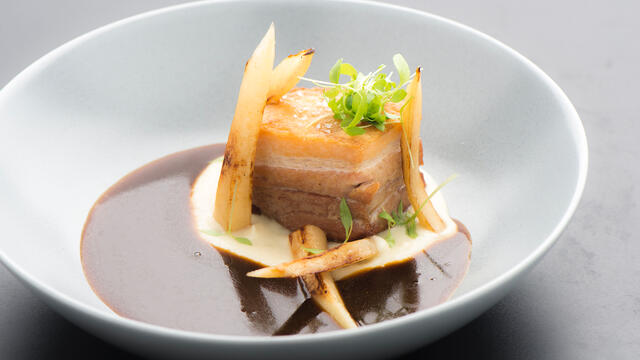 Pork belly with cream of parsley root
The kitchen of Haus Stemberg also symbolizes the family of simple hard-working people who fully propagate gastronomy here every day.
Ingredients
Persinette® Cress
fried parsley root
For the pork belly:
1.5 kg pork belly
1 carrot
1 celeriac
1 leek
2 tbsp tomato paste
1 tsp coriander seeds
1 tsp cumin
1 tsp juniper berries
2 bay leaves
3 cloves
3 tbsp beet syrup
12 cl red wine vinegar
5 dl red wine
1.5 l veal stock
pepper
salt
sugar
1 tbsp cocoa powder
For the cream of parsley root:
500 g peeled parsley root
2 shallots chopped
2 bowls of Persinette Cress
18 cl veal stock
2 dl whipped cream
cold butter
lemon juice
salt
pepper
nutmeg
Method
Sprinkle salt and pepper on the pork belly, fry in oil and remove from the pan.
Sweat the vegetables and tomato paste in the same pan without colouring, deglaze with the red wine vinegar, reduce by half, add the red wine and reduce again by half.
Now add the stock and beet syrup and let the liquid cool. Vacuum the pork belly with some of the liquid and cook in a 65°C water bath for 36 hours.
Pass the remaining stock through a sieve, reduce to the desired thickness and season with the cocoa powder.
For the cream, sweat the shallot, cress and carrot in butter, deglaze with the cream and stock and cook over medium heat. Blend until smooth in the blender and season with salt, pepper, lemon juice and spices.
Serve the cream in a deep plate with a piece of pork belly on top. Add the baked parsley root, garnish with the Persinette Cress® and serve with a generous sauce.
***
Haus Stemberg
Kuhlendahler Strasse 295 - Velbert-Neviges
0049 205 356 49
www.haus-stemberg.de
Recipe: Sascha Stemberg
Source: Culinaire Saisonnier 80 - Spring 2016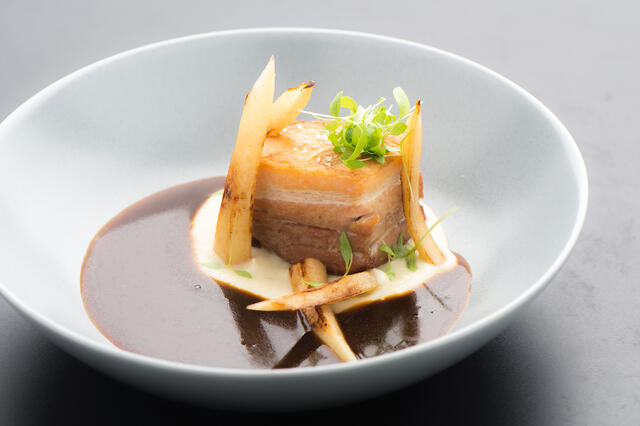 Related recipes
Gastronomical masterpieces
Related products
Say yes to the cress