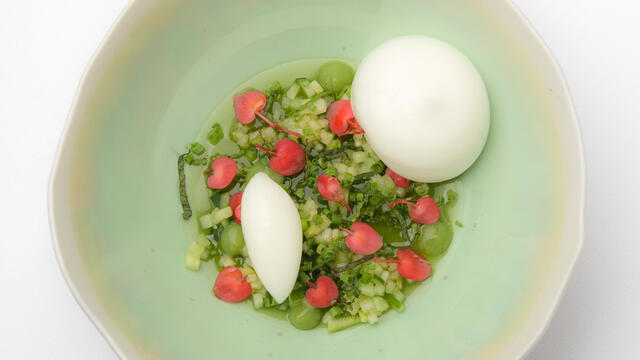 Cucumber jelly, Apple Blossom, granny smith, lemon sorbet
Cyril Molard creates greatness through the combination of ingredients that have been thoughtfully and combined in a minimalistic fashion, with craftsmanship as the connecting factor.
Ingredients
1 l centrifuged juice from organic cucumber
12 g of leaf gelatin
brunoise from granny smith apples
cucumber balls
chopped chives
chopped mint
Apple Blossom
mint oil
For the apple foam:
200 g apple juice
100 g pulco
50 g of sugar
4 g versawhip
3 g xantana
For the lime paste:
1 kg of limes
1 l vegetable stock
200 g of sugar
For the lemon sorbet:
1 kg of lemons
25 g of glucose powder
18 g stabilizer
20 g invert sugar
732 g of sucrose
1.5 l of water
Method
Bind the cucumber juice with the gelatin, season with salt and pepper, pour on the bottom of a plate and let set.
Mix all the ingredients for the foam, beat until very fluffy and set aside. For the pasta, peel the limes, remove the white from the peel and cut out the segments.
Mix in a pan with sugar, fill with the stock and reduce to the desired thickness. Blender until smooth and pass through a sieve.
For the sorbet ice cream, cut the lemons into slices. Prepare a syrup with the different sugars and the stabilizer. Add the lemon slices and let it steep.
Freeze in frix or paco cups and turbine. Dress all the garnishes on the jelly and finish with the chives, mint and Apple Blossom. Add the apple foam and spoon a quenelle of sorbet with it. Sprinkle with mint oil.
***
Ma Langue Sourit
1, rue de Remich, Moutfort
T. 00352/263 520 31
www.mls.lu
Recipe: Cyril Molard
Source: Culinaire Saisonnier 82 - Fall 2016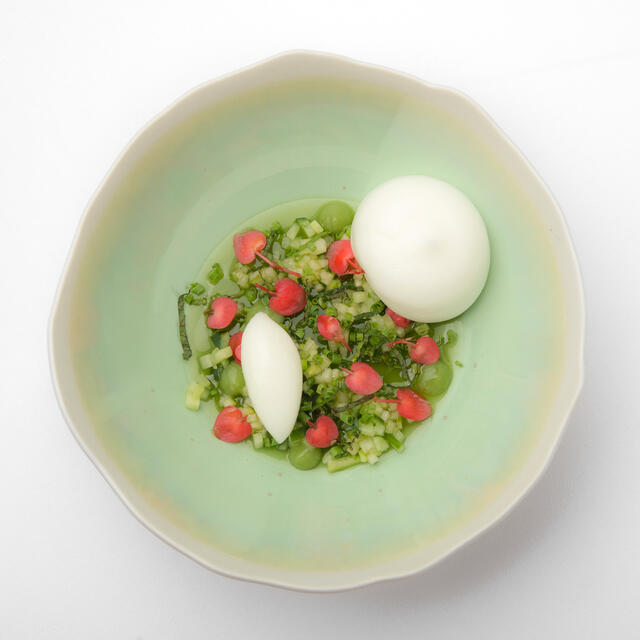 Related recipes
Gastronomical masterpieces
Related products
Say yes to the cress