Ingredients
(For 12 canapes)
6 Shiso Leaves Green
1 punnet Shiso Purple
120gr feta cheese
½ cucumber
1 tsp grated fresh ginger
3 tsp sesame oil
juice of ½ lemon
1 tsp toasted sesame seeds
Method
Mix in a little bowl, the lemon juice, 1 tsp of sesame oil and the freshly grated ginger. 
Lay the 6 Shiso Leaves Green flat on the table. 
Make 12 strips of cucumber with a peeler, cut them to size and arrange 2 slices side by side on top of each leaf. 
Brush the cucumber with the grated ginger mix. 
Cut 6 strip of feta cheese from the 120gr slice and arrange each slice on top of the cucumber, ready to roll the wrap. 
Roll the wrap and cut straight in the middle to make two canapes in once. 
Brush the base of each canapes with the remaining sesame oil and dip them in the toasted sesame seeds. 
Serve with the Shiso Purple. 
Recipe: Franck Pontais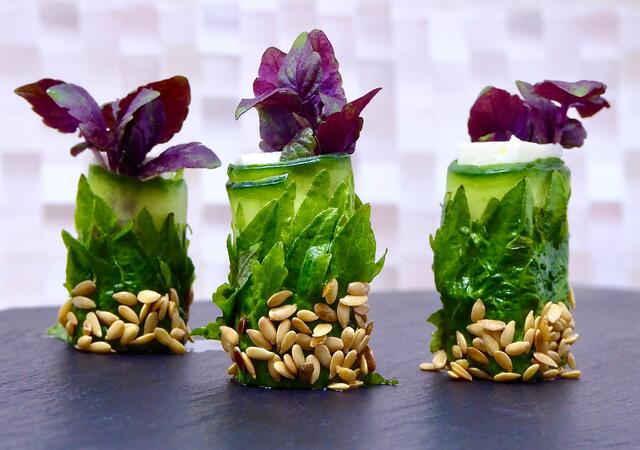 Related recipes
Gastronomical masterpieces
Related products
Say yes to the cress