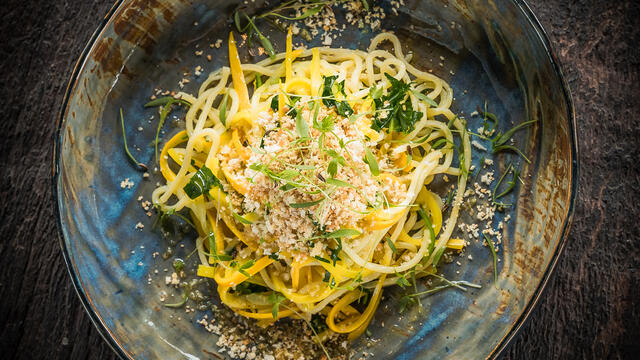 Spaghetti with yellow courgette, baby spinach and wild wild garlic, Motti Cress and toasted bread crumble
,
Frank Fol – The Vegetables Chef®
Ingredients
(For 4 portions)
1 yellow zucchini 
250 gr fresh spagetti - The Pastaman 
20 gr fresh young spinach 
2 leaves of wild wild garlic 
1 cup of Motti Cress
2 slices of toasted bread 
1 lemon 
Olive oil El Flamenco 
Method
Bread crumble: 
Mix the toasted bread into a crumble. 
Put a dash of olive oil in the pan, heat up and add the crumble. Color on low heat. Season lightly with some sea salt. 
Spaghetti: 
Cook spaghetti in boiling water with sea salt for 4 minutes. Drain and toss with some olive oil and black pepper. 
Wash zucchini, cut into thin slices of 2 mm using a slicer. Then cut into long spaghetti strands. 
finely chop the wild garlic and spinach. 
Stew the vegetables with some olive oil without coloring for a few minutes. Season with sea salt and black pepper. 
Now add the pasta and mix well. 
Finish: 
Divide the warm spaghetti mix over the 4 plates. 
Spread some toasted crumble on top. 
Drizzle some cold olive oil over the preparations. 
Cut the cress and divide it over the spaghetti. 
Recipe: Frank Fol - The Vegetables Chef®
Photo: Wim Demessemaekers, Photographer | @wim_dmskrs
Preparation time: 20 minutes 
Techniques: raw, stewing, cooking, roasting 
Plate: Wild Moon medium large ceramic bowl 
Recommended drink: Red wine, Pinot Noir - Winery Valke Vleugel, Scheldeland – Belgium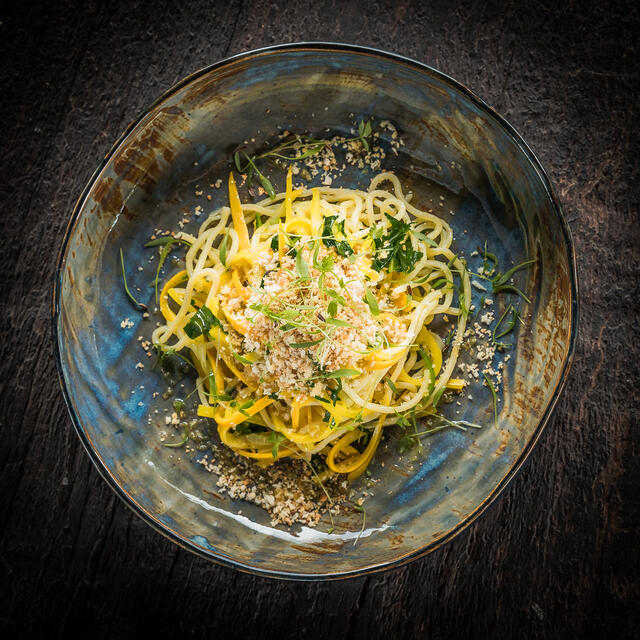 Related recipes
Gastronomical masterpieces
Related products
Say yes to the cress