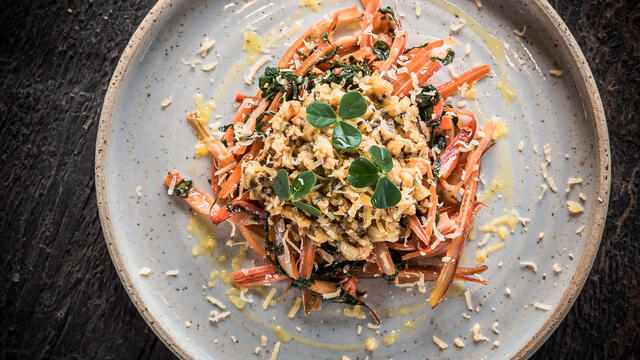 Spaghetti of chard with Shiitake, cashew nuts and Citra Leaves
,
Frank Fol – The Vegetables Chef®
Ingredients
(For 4 portions)
800 gr chard (red and yellow)
200 gr shiitake mushroom 2 cloves garlic
2 shallots
Butter (Hollebeek Hoeve)
80 gr cashew nuts
150 g bio Légumaise Vietnam - celeriac with curry
Cup of Citra Leaves
Drops of Arqan argan oil Piece of oud Brugge cheese Mace powder
Black pepper
Coarse sea salt
Method
Spaghetti:
Wash and cut 600 gr of chard (leaf and stalk) in fine julienne.
Stew everything in a little bit of butter until crispy, with a splash of water, coarse sea salt, pepper and mace powder.
Sauce:
Cut other chard (only stalk), shiitake, shallot, garlic and cashew nuts into equal cubes and stew gently with some butter. Season with coarse sea salt and mace. When everything is nicely done, mix in the Légumaise.
To finish off:
Divide the warm chard spaghetti over the plates.
Spoon the sauce on top and drizzle everything with a little argan oil Now grate some old cheese and finish with the citra leaves.
Recept: Frank Fol – The Vegetables Chef®
Photo: Wim Demessemaekers, Fotograaf | @wim_dmskrs 
Preparation time: 20 minutes
Techniques: stew, sauce, raw
Plate: Wild Moon large flat ceramic
Recommended drink: Red Wine, Pinot Noir Winery Valke Vleug, Scheldeland, Belgium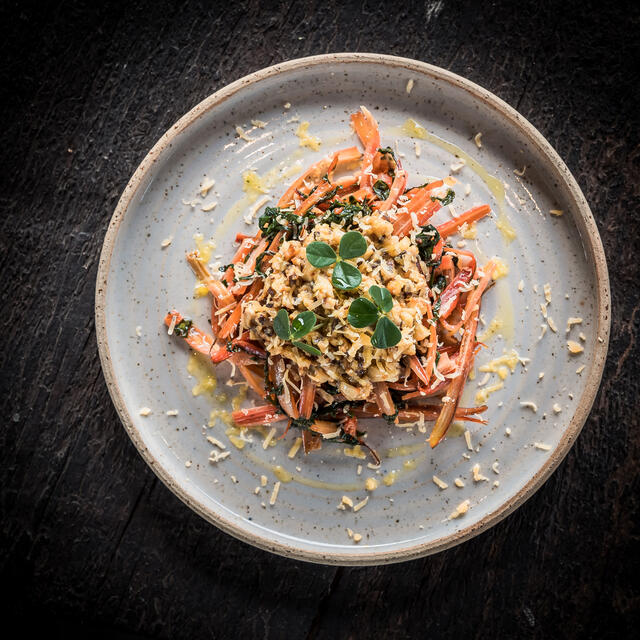 Related recipes
Gastronomical masterpieces
Related products
Say yes to the cress