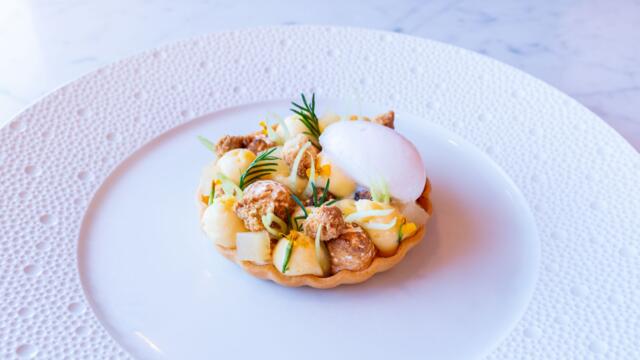 Lemon meringue pie, Anise Blossom
In the Grand Duchy of Luxembourg, we are impressed by the way in which the dishes find their balance on the plate.
Ingredients
1 apple Pink Lady in brunoise
4 baked pie crusts
thin slices of mini fennel
Anise Blossom
Paztizz Tops
For the lemon cream:
75 g centrifuged apple juice
75 g of lime juice
110 g egg yolk
30 g of protein
50 g of sugar
1 leaf of gelatin
120 g of butter
For the Italian meringue:
50 g of sugar
25 g of water
30 g of protein
For the lemon thyme sorbet:
200 g centrifuged apple juice
90 g centrifuged fennel juice
5 g lemon thyme
Method
For the cream, beat the yolks with the egg whites and sugar. Bring both juices to the boil, pour on the eggs, add the soaked gelatin and cook to 84°C. Let it cool down to 45°C, add the butter, let it cool and put it in a piping bag. For the meringue, bring water and sugar to a boil, bring to 121°C and pour little by little on the egg whites while beating. Run until completely cool, put in a piping bag and keep in the refrigerator.
Bring the fennel and apple juice to a boil, remove from the heat, add the lemon thyme, infuse for 15 minutes, pass through a sieve and turbine. Make nice swirls of meringue in each pie crust and burn with a gas burner. Fill with the lemon cream and garnish with 5 apple cubes and a few slices of fennel. Serve with quenelle sorbet and garnish with Anise Blossom and Paztizz Tops.
***
Two6two
Route D 'Arlon 262 – Strassen
T  00352 621 213 208
www.two6two.lu
Recipe: Baptiste Heugens
Source: Pâtisserie & Desserts - 56
Related products
Say yes to the cress
Related recipes
Gastronomical masterpieces
Related products
Say yes to the cress