Garden cake, Jasmine Blossom, pine sorbet
At the Ma Langue Sourit restaurant from Cyril Molard, we tasted desserts of apparent simplicity.
Ingredients
cucumber in brunoise
Jasmine Blossom
dill leaves
For the green celery mousse:
200 g of green celery juice
135 g of sugar
335 g eggs
170 g of butter
2.5 g of gelatin
For the biscuit:
200 g of flour
200 g of sugar
200 g of protein
200 g of butter
For the anise meringue:
100 g vanilla sugar
100 g powdered sugar
100 g of protein
10 g of green aniseed
For the dill cream:
800 g of cream
1 bunch of dill
10 pieces Jasmine Blossom
For the fennel jam:
1 kg of fennel
600 g of sugar
2 lemon juice
5 star anise
For the pine sorbet:
1 l green apple puree
122 g of glucose powder
10 g stabilizer
40 g invert sugar
290 g of sugar
1 kg of sorrel
1.9 l of water
80 g pine needles
Method
Prepare an anglaise of the celery juice, sugar and yolks, add the soaked gelatin and top with the butter. Let the mass cool and fill a piping bag with it.
Mix the ingredients for the sponge cake, keep cool for 24 hours, then iron in rectangular templates and bake in the oven at 180°C for 5 minutes. Roll the biscuit around a ring and let it cool.
Beat all the ingredients for the meringue until fluffy, dry at 70°C for 2 hours and crumble. For the cream, steep the herbs and Jasmine Blossom in the warm cream and pass through a sieve.
Pour into a siphon and aerate with 2 gas cartridges. Bring all the jam ingredients to the boil and let rest for 24 hours. Then boil the mass in 2.5 hours to a jam and blender very fine.
Blend the sorrel with the water for the sorbet ice cream. Blend the apple juice with the sorrel juice and the pine needles and pass through a sieve. Prepare a syrup with the other ingredients and mix with the juice.
Leave to cool in the refrigerator for 24 hours and pour into paco or frix cups. Place a ring of biscuit on the plate and garnish half with celery mousse. Spoon some jam on top, followed by some cucumber brunoise and Jasmine Blossom.
Cover with the dill cream and sprinkle with the meringue powder. Garnish with dill sprigs and top with quenelle sorbet.
***
Ma Langue Sourit
1, rue de Remich, Moutfort
T. 00352/263 520 31
www.mls.lu
Recipe: Cyril Molard
Source: Pâtisserie & Desserts - 43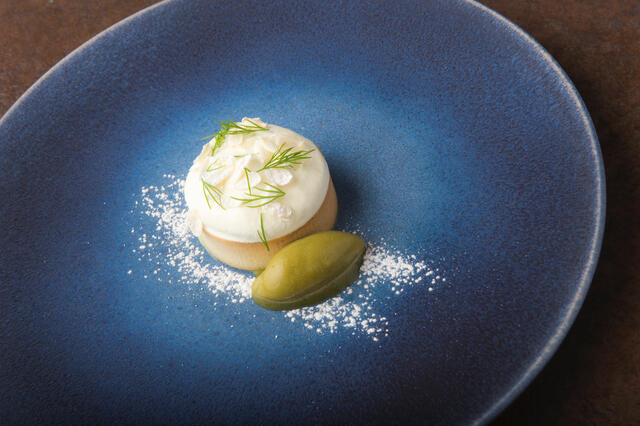 Related recipes
Gastronomical masterpieces
Related products
Say yes to the cress