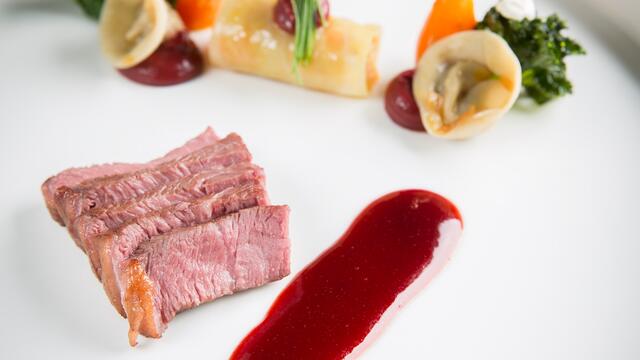 Wagyu with borscht and beetroot
Working with a local farmer's wife who owns a vegetable garden planted at his request brings Alexander Wulf closer to his ultimate goal: a modern global kitchen with Russian touches.
Ingredients
Rock Chives®
oxheart cabbage
green cabbage
carrots
green cabbage leaf
For the Wagyu tailpiece:
1 Wagyu tailpiece
10 tbsp soy sauce
3 tbsp brunoise carrot
3 tbsp brunoise of celeriac
3 tbsp brunoise of onion
2 lovage stems
For the Wagyu pelmini:
100 g of Wagyu buttocks
30 g fat bacon
1 protein
pepper
salt
70 g Rock Chives
pasta dough
For the Borscht puree and the sauce:
3 tbsp carrot brunoise
3 tbsp pepper brunoise
1 tsp tomato paste
1 tbsp beef fat
1 tsp minced garlic
3 tbsp brunoise of celeriac
3 tbsp brunoise of onion
5 tbsp brunoise of potato
5 tbsp sliced pointed cabbage
5 tbsp brunoise of boiled beetroot
1 tbsp chopped dill
2 tbsp smetana
2 dl beef stock
For the pointed cabbage:
1/2 pointed cabbage
2 tbsp brown butter
pepper
salt
For the vegetables:
3 beetroot
brown butter
salt
pepper
Method
Fry the tail brown all around, fry the vegetables in the same pan, deglaze with the soy sauce and vacuum everything together.
Marinate for 24 hours and then cook in a 60°C water bath for 24 hours.
Fry all the vegetables for the Borsch in the beef fat, let it boil gently, pass through a sieve and keep the moisture. This is the sauce for the meat.
Grind the vegetables with the smetana and dill. Reduce the sauce to the correct thickness.
For the pelmini, grind all ingredients smooth, roll out the pasta dough thinly and make the pelmini. Cook them al dente in salted water.
Remove the outer leaves from the pointed cabbage and blanch in salted water. Cut the rest of the cabbage very fine and turn it into brown butter.
Season, roll tightly in the pointed cabbage leaves and cut into thin rolls.
Boil the beets in salted water, peel, dice and stew with brown butter, salt and pepper. Stew the carrots in a classic way and fry the cabbage leaf.
Dress all components on the plate and garnish with the cabbage leaf and cress.
***
Restaurant St. Jacques

Feldstrasse 50, Heinsburg, Duitsland
Tel 0049/2453 306 980
www.burgstuben-residenz.de
Recipe: Alexander Wulf 
Source: Culinaire Saisonnier 91 - Winter 2018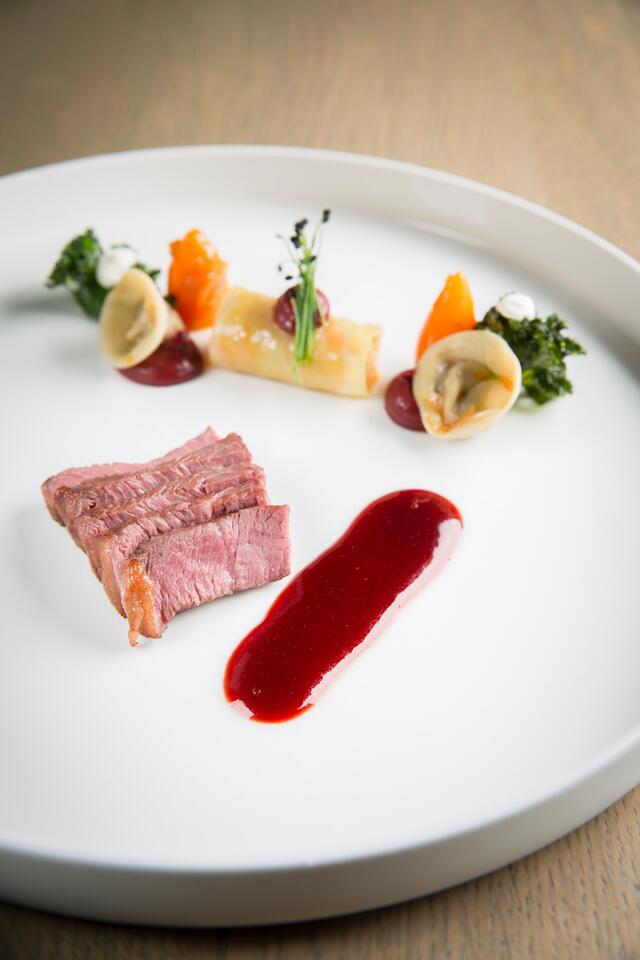 Related recipes
Gastronomical masterpieces
Related products
Say yes to the cress