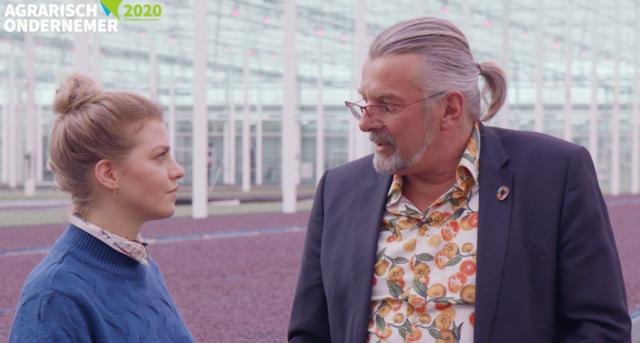 Agricultural Entrepreneur 2020 expresses gratitude to Gastronomy
Category: Why of Horticulture
Koppert Cress CEO Rob Baan received the prestigious prize, Agricultural Entrepreneur of the Year 2020
On Thursday 17 September, Koppert Cress CEO Rob Baan received the prestigious prize, Agricultural Entrepreneur of the Year 2020. During his acceptance speech, Baan especially thanked the gastronomy, which did not forget the company and started using its products after the Corona peak. He elaborated further on the role of agriculture and horticulture in healthy nutrition. "Something that we as an industry can be proud of", says Baan. Particularly in collaboration between doctor, farmer and chef, a responsible composition of our diet can contribute to our health. Baan's personal motto is therefore to make the Netherlands the healthiest delta in the world.
The prize is an initiative of Boerderij, Groenten & Fruit en Veehouderij and partners ABN Amro and Hardeman Veenendaal. Agriculture and horticulture are the Dutch international showpiece and an example of growers worldwide. The annual prize, which is awarded for the 25th time this year, focuses on the entrepreneur. In the assessment, the jury pays attention to the entrepreneur's vision of the future, enthusiasm, integrity and innovative capacity. The jury made a pre-selection and nominates five companies, from which visitors to the website could vote for their favorite.
Rob Baan is the owner of Koppert Cress, a company that specializes in cresses, freshly sprouted plants with a multitude of flavors, which are particularly popular in professional kitchens. From Monster, the products go to (Michelinstar) restaurants all over the world. Baan has been committed to good and responsible nutrition and the added value of fruit and vegetables for years. In 2016 he was awarded the KW1 Plaque for sustainable entrepreneurship from Queen Maxima.
Related articles
Also interesting