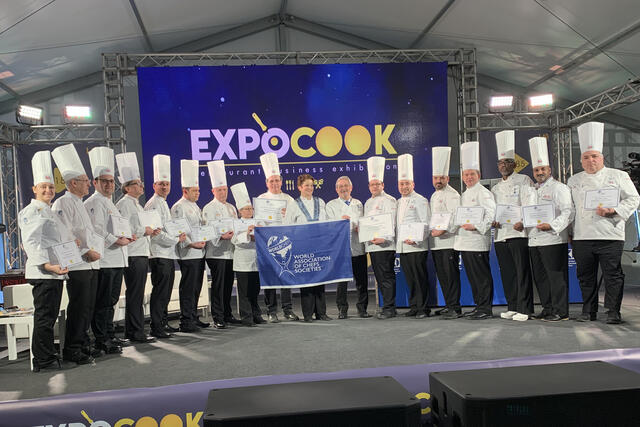 First Class of Vegan Competition Seminar Graduates in Italy
Category: Hospitality & Gastronomy
The World Association of Chefs Societies (Worldchefs) is thrilled to announce the 1st Vegan Competition Seminar was held in Palermo, Sicily during Expocook 2020, an annual restaurant business exhibition.
Increasing number of vegan competitions
Federazione Italiana Cuochi (FIC) www.fic.it President Rocco Pozzulo attended Expocook 2020 and provided the opportunity for Worldchefs seminar history to be made in Italy!  With 17 graduates trained and prepared to work towards receiving their certification status in vegan competitions, Worldchefs can expect to see an increasing number of vegan competition categories at national, regional, international and global competitions. It can also expect to receive an increasing demand for vegan competition seminars. 
The vegan diet and lifestyle choice is rapidly increasing
Cornelia Volino, Worldchefs Secretary General and Instructor of the Vegan Competition Seminar stated, "The vegan diet and lifestyle choice is rapidly increasing worldwide. It is important for chefs to provide plant-based dining options on their menu to meet the needs of this growing customer base. In order to ensure customer satisfaction and remain current in an ever-evolving industry, chefs must prepare or do their mise en place to be ahead of the shifting demands, and to be frontrunners in the evolution of gastronomy." She further stated, "Worldchefs developed the Vegan Competition Seminar to provide competition standards for the new vegan/plant-based cuisine categories." 
IKA Culinary Olympics
Domenico Maggi, Continental Director Europe South was instrumental in the success of the seminar in Palermo, providing significant coordination and the Italian translations. Gert Klotzke, Chairman of the Culinary Competition Committee made a guest appearance to share an overview of the National Team's Chef's Table vegan intermediate course entries from the recently held IKA Culinary Olympics in Stuttgart, Germany. 
During the seminar, selected vegan/plant-based products from Worldchefs partners' Koppert Cress, Birra Morena and Les Vergers Boiron were introduced and sampled by the participants. The local host, Associazione Cuochi e Pasticceri di Palermo provided logistics, hospitality and ongoing support. Worldchefs would like to recognize President Giacomo Perna, Giuseppe Giuliano, Mario Puccio, Rosario Seidita and Benedetto Priolo. Special appreciation to FIC Secretary Alessandro Laudadio for travelling from Rome to provide national support during the seminar. For more information on the Worldchefs Vegan Competition Seminar, visit www.worldchefs.org/competitionseminar 
Related articles
Also interesting