First PAR+ Coating Applied
Today we are celebrating a big milestone. A month ago, after five weeks of waiting for the rain to end, we applied the first ever 50m2 PAR+ coating onto a greenhouse with partner Koppert Cress. Not only are we celebrating the application of our coating, but also the first glimpse of progress. The first impression is a positive effect on plant colour, plant form and stress.
"After years of hard work, it's incredible to see the effort come to life and to see the first signs of success. This is only the first step, but shows the potential for continued work in this field, and especially the power of partners coming together to make it happen." - Sadiq van Overbeek, Lead Research Engineer & Product Owner PAR+
The luminescent UV to PAR particles in our spray coating inherently make the light diffuse. Usually, diffusive spray coatings result in the loss of PAR but by converting part of the harmful UV radiation into useful PAR light we achieve hortiscatter without PAR losses.
PAR+ will continue to be applied onto greenhouses as pilot studies, in order to better understand the light quality improvement and it's impact on different crops. From tomatoes to sweet peppers and strawberries, we are testing a range of benefits and continuously bringing that information back to the lab for improvements.
Source: photos and text from Physee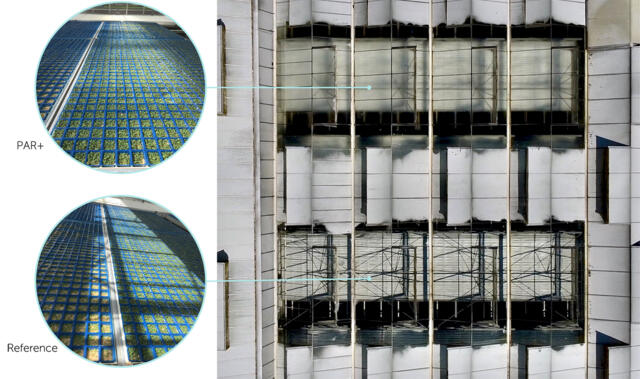 Related articles
Also interesting