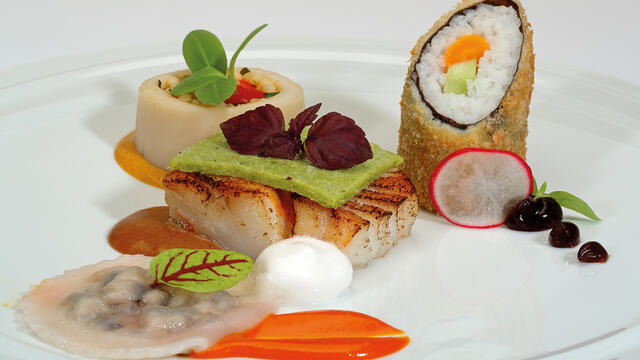 A journey through Asia in the Zwaantje, as they affectionately call it in Venray
Ingredients
(For 4 servings)
1 squid tube size u10
1 dl fish stock
40 g pearl couscous
pinch of chopped red pepper
1 tbsp freshly chopped coriander and mint
 
50 g butter
10 crushed garlic cloves
100 g fresh anchovy fillets
2 dl cooking cream
4 nice thick 160 g white halibut fillets
50 cl tandoori marinade
30 g brioche bread
30 g ground and crushed peas
20 g flat parsley
30 g butter
1 tsp Tauyu no Moto
 
½ dl peanut oil
100 g of dried scallops
100 g dried shrimps
100 g shallots
3 pressed garlic cloves
50 g finely chopped fresh ginger
100 g peelscheenk (Limburg dried ham)
1dl fish stock
 
50 g sushi rice
mirin to taste
sushi vinegar to taste
pinch chopped red pepper
1 nori sheet
Pickled chopped sushi ginger
blanched carrots, courgette julienne
1 tbsp rice flour
50 g of protein
Panko
 
1 dl carrot juice
pinch of Vietnamese curry paste
1 dl coconut milk
pinch of turmeric
butter
10 g freshly grated wasabi root
 
60 g jus de cepes
60 g shii take
1 tbsp water pz
75 g rice flour
142 g of water
pinch of salt
18 g sago flour
15 ml Valderrama Ocal olive oil
 
100 g stockfish
4 dl milk
40 g pro espuma
30 cl ponzu sauce
1 g Xantana
Borage Cress
Shiso Purple
Vene Cress
Limon Cress
Method
Stuffed squid with pearl couscous:
Cook the squid with the fish stock sous vide for 4 hours at 75°C, boil the pearl couscous and mix with the spices and pepper. Cut the squid tube into 4 equal pieces and fill with the couscous, chill.
Bagna couda sauce:
Melt the butter, add the garlic and anchovies and let sweat for a while, add the cream and reduce to yogurt thickness and sieve.
The crust:
Chop the brioche, peas, parsley, butter and the Tauyu no Moto in the thermo blender to a smooth paste, roll out thinly and place in the refrigerator. When cold, cut into nice pieces to fit the halibut fillets.
Inject the halibut fillets with the tandoori marinade, fry the fillets alternately, set aside.
Xo sauce:
Put in the groundnut oil, ham, shrimps, shallots, garlic, ginger over medium heat, deglaze with the fish stock and add the scallops, reduce over low heat to a viscous sauce, blend and strain, set aside.
Crispy sushi:
Boil the rice, drain and mix the warm rice with mirin, sushi vinegar and the chopped ginger. Roll sushi tightly with the carrot and zucchini in the middle, cut into the desired size, pass through the rice flour, then roll through the egg white and then bread with the panko. Put cold.
Beurre blanc:
Fry the pasta in a little linseed oil, add the rest and reduce to yogurt thickness, assemble with ice-cold butter, finally add the wasabi root.
Chinese ravioli:
Sweat the chopped cépes and shiitake in a little olive oil until done. Allow to drain on a sieve. Mix 2 parts of rice flour and 3 parts of water with salt in a bowl, bring the rest of the water to the boil with a pinch of salt, reduce the heat. Using a whisk, stir in the porridge vigorously and quickly. Now stir in the rest of the rice flour with a wooden spatula until the dough is smooth. Place in a bowl and finally add the sago flour and oil, knead for 5 minutes until a smooth dough. Divide the dough into 4 portions, press and pull the drained mushroom filling in and close, press the edges well and steam the dough bags on an oiled rack for 10-12 minutes.
Stockfish espuma:
Let the stockfish soak in the milk over low heat, strain and let it cool down, add the pro espuma and billet well, pour into a siphon and aerate with 2 cartridges.
Ponzu sauce:
Rods with the Xantana.
Decoration:
Steam the stuffed squid and Chinese ravioli for another 3 minutes, the halibut for 16 minutes at 120°C in the oven, fry the sushi and cut it diagonally, and dress everything neatly with the accompanying sauces and cress.
Borage Cress with the squid for saltiness.
Limon Cress with the halibut for freshness.
Vene Cress with the ravioli for sourness.
Wine suggestion: Gewürztraminer, Santa Digna, Chile
Recipe: Ben Aerts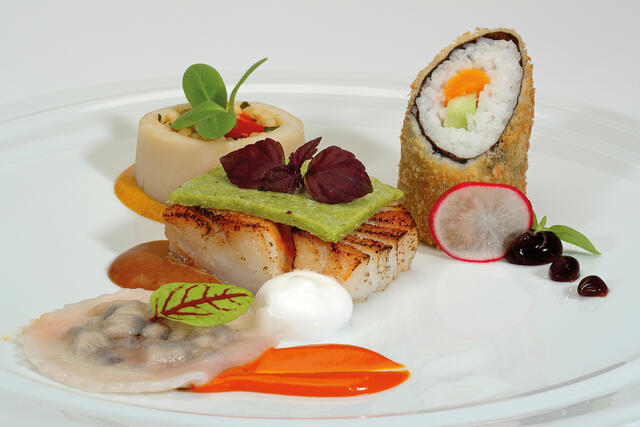 Related recipes
Gastronomical masterpieces
Related products
Say yes to the cress