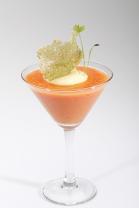 Gazpacho with a garlic foam and a crunchy algae biscuit
Ingredients
800 g tomatoes
20 g garlic
20 ml Shiso Purple vinegar
80 g onion
20 g cucumber
100 g Bomba rice
20 g Algae Powder
50 ml oil
10 g pepper
5 g salt
1 tray Motti Cress
Method
Gazpacho:
Clean and trim the vegetables and cut them into pieces. Keep the garlic separate. Puree the vegetables in the blender (except the garlic) together with three quarters of the Motti Cress.

Garlic foam:
Blend the garlic together with the oil and make an emulsion. Put this in the soda syphon and chill with one gas cartridge.

Crunchy algae biscuit:
Boil the Bomba rice until well done, mix in the Algae Powder, and spread the resulting paste thinly over baking paper. Dry it for 45 minutes at 150 ºC in the oven.
Serve the gazpacho in a cocktail glass, add the Shiso Purple vinegar, and pipe the garlic foam on top. Garnish with the rest of the Motti Cress and a crunchy algae biscuit.
Related recipes
Gastronomical masterpieces
Related products
Say yes to the cress