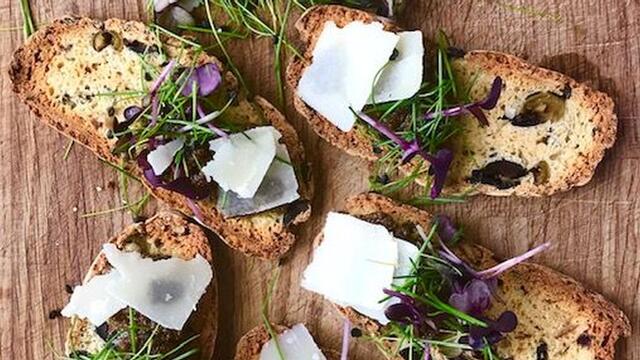 Mixed Olive, Sakura Cress and Rock Chives Biscotti
Makes around 40 Biscotti
Ingredients
Ingredients for Biscotti
Plain flour                             450g
Baking Powder                     2  tsp
Pitted mixed olives               220g
Rock Chives                         1 punnet
Sakura Cress                        1 punnet
Grated Parmesan cheese    80g
Eggs (large)                          2 each
Milk                                       125ml
For the topping
Black olive tapenade             250g
Parmesan cheese                 100g
Sakura Cress                         1 punnet
Rock Chives                          2 punnets
Method
Preheat the oven at 170C
Cut the Sakura Cress and Rock chives with a scissor, reserve.
Put the Flour, baking powder, olives, cut cresses and grated Parmesan cheese in a bowl.
Make a well in the center, add the eggs and milk and mix well, combine to form dough.
Bake for 40 minutes and set aside the loaf to cool slightly.
Slice the loaf with a serrated knife into 2mm thick pieces and place on a baking tray. Bake for another 10 minutes or until crisp.
Cool completely and build the Biscotti with the topping.
Enjoy!
Related recipes
Gastronomical masterpieces
Related products
Say yes to the cress