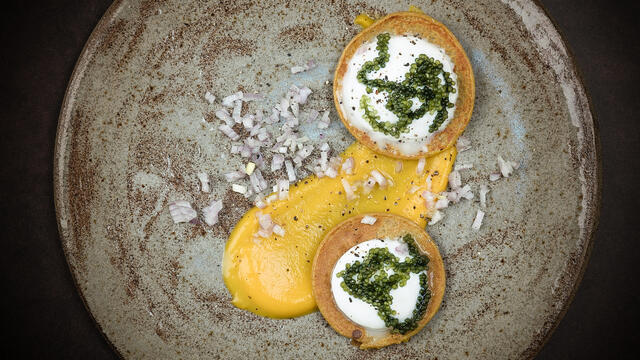 Pumpkin blinis with fresh cheese Moai Caviar
Ingredients
(For 4 portions)
1 small straight tube pumpkin
4 tablespoons of fresh cheese
150gr spelt flour
250ml of whole milk
1 tbsp baking powder
2 eggs
Iluigi olive oil
2 shallots
Jar of Moai Caviar - Koppert Cress
Black pepper - Verstegen
Coarse sea salt - Verstegen
Method
Pumpkin:
Peel and pit the pumpkin.
Cut the pulp into blocks.
Cook in water with 1 sliced shallot.
When done, mix the pumpkin and shallot with a splash of cooking water and a dash of olive oil to a salve. Season well with some sea salt and black pepper.
Blinis:
Make a blinis dough with some pumpkin salve.
Take 200 g of pumpkin salve.
Beat the eggs lightly and add milk, flour and baking powder. Now mix with pumpkin and season with salt and pepper.
Heat the pan with some olive oil.
Add batter with a tablespoon and fry small blinis, turn so that they are nicely baked on both sides. Finish batter and keep blinis warm.
Shallot:
To finish off:
Place a wipe of warm of pumpkin salve on each warm plate. Top each time with 2 warm blinis.
Spoon a spoonful of fresh cheese onto each blini.
Season with black pepper and place a few moai caviar strands on each blini.
Now sprinkle some shallot chips and serve.
Recipe: Frank Fol - The Vegetables Chef®
Photo: Wim Demessemaekers, Photographer | @wim_dmskrs
Preparation time: 30 minutes 
Techniques: veggies 
Plate: Wild Grey Flat