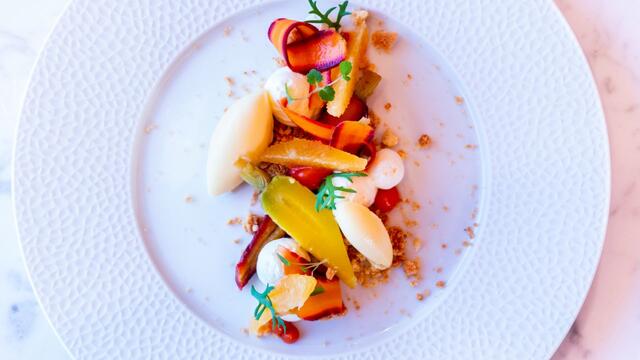 Carrot, Orange, Cottage Cheese, Atsina Cress, Kikuna Leaves
In the Grand Duchy of Luxembourg, we are impressed by the way in which the dishes find their balance on the plate.
Ingredients
100 g of crumble
Atsina Cress
Kikuna Leaves
For the cottage cheese mousse:
200 g of cottage cheese
50 g of water
100 g of sugar
60 g of protein
200 g of cream
For the carrot:
8 young carrots in different colours
5 dl of centrifuged carrot juice
5 dl freshly squeezed orange juice
For the orange sorbet:
5 dl freshly squeezed orange juice
1 cinnamon stick
1 star anise
2 cloves
20 g corn syrup
1 lime
Method
For the mousse, prepare an Italian meringue with water, sugar and proteins and fold it through the curd cheese. Beat the cream at 3/4 and carefully fold in. Let the orange and carrot juice reduce by half, cook the different carrots and let it cool. For the sorbet ice cream, boil the orange juice with the spices and glucose, let it steep for 20 minutes, let it cool and turbine. Finish the mousse with a quenelle sorbet and a few leaves of Atsina Cress and Kikuna Leaves.
***
Two6two
Route D 'Arlon 262 – Strassen
T  00352 621 213 208
www.two6two.lu
Recipe: Baptiste Heugens
Source: Pâtisserie & Desserts - 56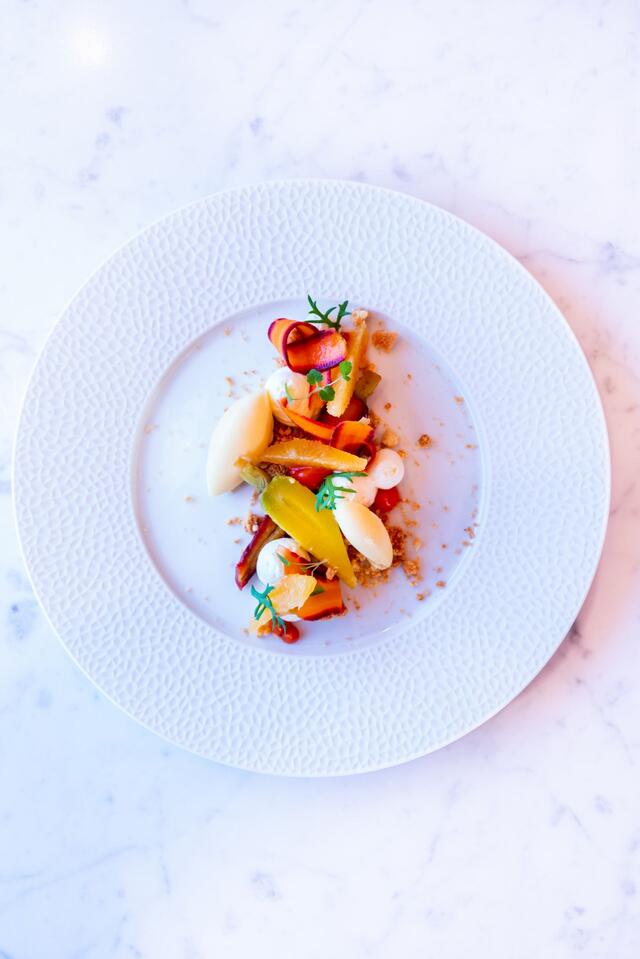 Related products
Say yes to the cress