Ingredients
(For 4 portions)
½ punnet Sea Fennel
2 medium avocado's
4 tbsp olive oil
juice of ½ a lemon
1 tsp cider vinegar
4 small pinches pink peppercorn
Method
Peel and cut each avocado in half. 
Twist gently holding each half in your hand and remove the stone. 
Lay each half-peeled avocado on the chopping board and cut out some fine slices out of each one. 
Using half avocado worth for each portion, build the rose shape starting by rolling the finest and smallest slice for the centre and build around it until finish.  
Keep a dozen of small stems of Sea Fennel aside. 
To make the dressing, blitz the rest of the sea fennel in a high-speed blender with the oil, vinegar and lemon juice. 
To serve, place each portion of avocado in the centre of the plate with the dressing, 3 stems of Sea Fennel and one pinch of pink peppercorn.
Recipe: Franck Pontais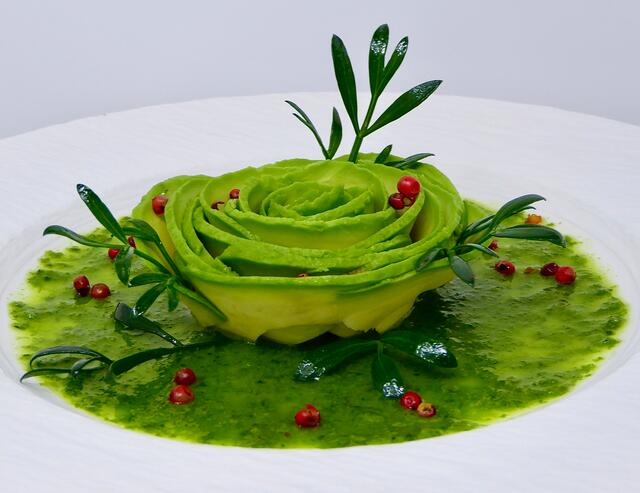 Related recipes
Gastronomical masterpieces
Related products
Say yes to the cress