Ingredients
Baked Celeriac: 
1pcs Celeriac
sea salt 
Tahoon Cress  
Tahoon oil:
 50g Tahoon Cress
 90g grape seed oil
Dry mushroom foam:
100ml dry mushroom boulion
1,3g lecithin
1tbs rice vinegar
10g camelina oil
Dry celeriac: 
½ pcs  celeriac
100ml soya sauce dark
50ml rice vinegar
80ml water
Method
Baked Celeriac: 
Wash and peel celer.
Put to the aluminum foil.
Add sea salt to taste and Tahoon Cress (few cress to each celery). 
 Tahoon oil:
Put to the termomix and blend 4 minutes in 50°C on full power.
Dry mushroom foam:
Mix all ingredients using hand blender.
set aside for 5 minutes. 
Dry celeriac: 
Boil vinegar, water and soya sauce.
Cut celeriac in irregular shape, and boil for 10 minutes.
Caramelize.
Put in to the dehydrator at 60°C for 12 hours.  ​
Recept: Ernest Jagodziński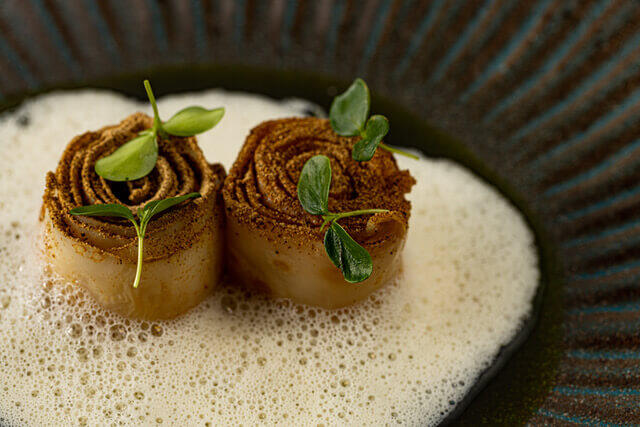 Related recipes
Gastronomical masterpieces
Related products
Say yes to the cress